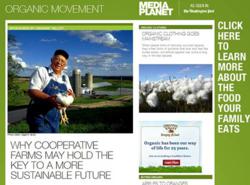 Mediaplanet is pleased to announce its first print and digital integrated campaign.
New York, NY (PRWEB) April 05, 2013
For over a decade, Mediaplanet has been leading the charge in themed media, capturing attention from industry leaders with its novel concept and engaging readers globally with compelling print campaigns in some of the world's largest newspapers. In 2012, Mediaplanet made its foray into the digital realm with its subsidiary, Conversionplanet. With the same core concept and commitment to quality content, Conversionplanet opened its doors in four countries and launched customized sites across a broad spectrum of industries with clients like H&M, AARP, MuteWatch, and Team Epilepsy. Earlier this year, Mediaplanet announced that it would merge with Conversionplanet to offer a truly integrated product for clients who want to stand out in a cluttered advertising space.
Today, Mediaplanet is pleased to announce its first print and digital integrated campaign, The Organic Movement. The print publication hit newsstands in the Washington Post on February 28th, as a 12-page section that provided a unified voice for the organic industry to reach general readers and policymakers alike.
Simultaneously, Mediaplanet launched the digital section, which hosted exclusive online content that could not be found in the print version. Mediaplanet joined forces with CROPP, the marketing cooperative behind the Organic Valley and Organic Prairie brands, on one such web exclusive article that provides a behind-the-scenes glimpse into the organic industry. With Organic Valley as a sponsor, the partnership enticed targeted readers with a branded roadblock on Washington Post's "Health & Science" section.
Curious readers from the Post were directed to the custom article, Why Cooperative Farms May Hold the Key to a More Sustainable Future, to learn more about how the farming cooperative model is propelling the organic movement forward. The article revealed how going organic is more than a personal health decision; it is a choice that can have a profound economic and environmental impact. By opting for organic when confronted with the choice, consumers are actually giving a boost to the local economy, supporting sustainable farming, and keeping small family-owned farms in business.
Farming cooperatives, like CROPP, are making it possible for organic farmers to compete on a national level and have made brands like Organic Valley and Organic Prairie household names. And it is innovative content marketing specialists like Mediaplanet that are allowing brands like Organic Valley to stand out and reach potential customers in an impactful way.