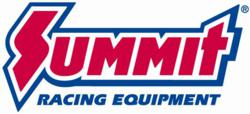 Tallmadge, OH (PRWEB) April 06, 2013
Summit Racing Equipment now stocks the new X-Pel Technologies Headlight Protection Kits.
Headlights—especially modern ones with lenses made from acrylic material or polycarbonate—can become cloudy and/or discolored over time due to oxidation caused by harmful UV rays. They can also develop pitting from attacks by stones, road salt, debris, and sand.
X-Pel Technologies Headlight Protection Kits are like armor for expensive headlights. They feature a tough, non-yellowing PVC film that provides protection from UV rays and debris. The film is polished for excellent gloss retention and optical clarity, and is laminated with a 3M high performance acrylic adhesive so it stays put.
Summit Racing offers direct-fit X-Pel Technologies for over 1,100 domestic and import vehicles from 1955 through 2012. Summit Racing also has universal kits for vehicles with single, dual, and quad round headlights—perfect for vehicles from the 1920s through the mid-1970s.
PRODUCT LINK:
http://www.summitracing.com/search/brand/xpel-technologies/product-line/xpel-technologies-headlight-protection-kits?autoview=SKU&keyword=xpel%20technologies
Summit Racing also offers a complete line of X-Pel Technologies protective film kits for door edges, doorsills, truck bed rails, rocker panels, taillights, and fog lights.
LINK TO COMPLETE X-PEL TECHNOLOGIES LINE: http://www.summitracing.com/search/brand/xpel-technologies?keyword=xpel%20technologies
Summit Racing Equipment
http://www.SummitRacing.com
1-800-230-3030