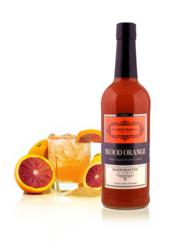 Salem, MA (PRWEB) April 12, 2013
Powell & Mahoney, Ltd. is proud to release their latest flavor, Blood Orange, which is scheduled to hit shelves spring, 2013. The exotic fruit flavor is the first addition to the line up since the brands recent partnership with renowned mixologists, The Tippling Bros.
Powell & Mahoney, Ltd. Blood Orange debuted at the Natural Products Expo West, which showcased a record number of new products from the natural, organic and healthy living sector with more than 63,000 participants from around the world. The new mixer will join the existing line up which includes, Margarita, Bloody Mary, Low-Cal Margarita, Peach Bellini, Pomegranate, Lemon Sour, Old Ballycastle Ginger, Mojito, and Cosmopolitan.
Like all Powell & Mahoney, Ltd. cocktail mixers, the Blood Orange mix is all-natural, gluten-free, and handcrafted in Vermont. The refreshing mix is only 45 calories per serving, and can be mixed with virtually any spirit. It's the perfect starting point for anyone's cocktail creativity!
About Powell & Mahoney, Ltd.
Powell & Mahoney, Ltd. was founded by two-beverage industry veterans who were inspired by the lack of quality mixers made available to consumers. Noticing a true need in the market, the duo combined their expertise and passion and launched the successful mixer brand. Powell & Mahoney, Ltd. has reinvented classic cocktail recipes by swapping out artificial flavoring and preservatives for hand selected, better-for-you ingredients.