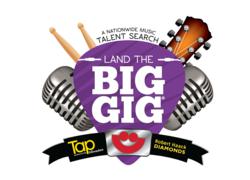 Milwaukee, WI (PRWEB) April 07, 2013
Summerfest has teamed up with Robert Haack Diamonds and Tap Milwaukee to find America's next breakout musical act. Starting today, April 7, bands and musical acts from across the nation can enter the Land the Big Gig contest by uploading a performance video at LandTheBigGig.com. Videos must be submitted by noon on Monday, May 13 to be considered.
Fans will vote for their favorite acts online beginning Wednesday, May 15, and the Top 3 Finalists will be announced on or around Wednesday, June 19. The finalists will win a trip to Milwaukee, WI to perform at Summerfest's Briggs & Stratton Big Backyard on Thursday, June 27 for their chance to win a share of $50,000 in cash and prizes.
"Playing at Summerfest is the ultimate way for a band to get noticed, and maybe even make it big," said David Wise, Marketing Director for the Milwaukee Journal Sentinel. "And as if playing at Summerfest isn't amazing enough, the grand prize winner gets a share of $50,000 in cash and prizes!"
In 2013, Summerfest will celebrate its 46th year of rocking Milwaukee's lakefront. Summerfest, "The World's Largest Music Festival," features more than 800 acts and 1,000 performances on 11 stages over 11 days, providing an unforgettable live music experience for nearly 900,000 music fans from around the world each year.
"At 'The World's Largest Music Festival,' talent spans all genres and the same holds true for Land the Big Gig. We encourage talented musicians of all music styles, from folk to hip hop to rock and roll, to enter for their chance to win," said John Boler, Chief Marketing Officer at Summerfest. "Playing at Summerfest is truly the opportunity of a lifetime. We also invite all our fest-fans to vote online and come to Summerfest on June 27 to support their favorite performers!"
Last year's Land the Big Gig brought an unprecedented level of partnership and promotion to all participating sponsors. This year, Summerfest and Tap Milwaukee are excited to partner with Robert Haack Diamonds to make Land the Big Gig even bigger and better than before.
"The 2012 Land the Big Gig was so fun and exciting, we are honored to be the presenting sponsor this year," said Bret Eulberg, owner of Robert Haack Diamonds. "We want to be involved in the community, and what better way than through music and entertainment? Plus, we just might discover the next hidden music star!"
Fans and contest entrants are encouraged to visit LandTheBigGig.com for updates and follow Land the Big Gig on Facebook and Twitter at #landthebiggig.
Producing Sponsors of Land the Big Gig sponsors are Boucher Automotive, University of Wisconsin- Milwaukee and Mountain Dew Kickstart. Southwest Airlines is the official airline partner of Land the Big Gig.
About Summerfest
Summerfest 2013 will take place June 26 - 30 and July 2 - 7, from Noon until Midnight and will be closed Monday, July 1. Following its 1968 debut, Summerfest has evolved into what is now recognized as "The World's Largest Music Festival" and Milwaukee's cornerstone summer celebration, bringing the music industry's hottest stars, emerging talent and local favorites along with approximately 900,000 people from Milwaukee and around the world together each year for an unforgettable live music experience. During the festival, the spotlight shines on over 800 acts, over 1,000 performances, 11 stages, delectable food and beverages and interactive activities, all in a world-class festival setting. Patrons can also enjoy Miller Lite, the Official Beer of Summerfest. For more details, visit Summerfest.com, Facebook.com/summerfest or Twitter: @Summerfest.
About Robert Haack Diamonds
Robert Haack Diamonds has been the leader in diamond and engagement rings since 1947. Each location has master gemologists available, along with master goldsmiths who are experts at jewelry repair and custom work, meaning they can create that piece of jewelry of your dreams. Robert Haack also helps the community by purchasing unwanted gold, silver and diamonds and comes highly recommended by the local media. What sets Robert Haack from its competitors is the no stress approach when buying or selling; getting a money saving deal with a huge selection to choose from and we treat you like family.
About Tap Milwaukee
The Milwaukee Journal Sentinel's TapMilwaukee.com is Southeastern Wisconsin's essential guide to entertainment, providing everything you need to know about going out, staying informed and sharing that information with friends. Tap was created in 2011 to engage a growing market of readers who want local entertainment news at their fingertips. Our readers are passionate about things to do - from music to movies to dining and galleries – TapMilwaukee.com has it.