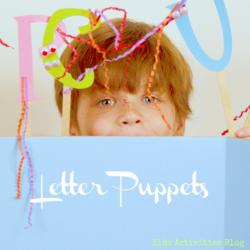 Letter puppets make spelling practice feel like playtime.
Dallas, Texas (PRWEB) April 07, 2013
Spelling practice has never been more fun with these adorable letter puppets. The letter puppets are fun to build and will make the spelling practice feel like playtime to the kids.
Materials needed to make the adorable letters are cardboard paper letter cutouts, paint, glue, craft sticks, Plaid Mod Podge, and decorations such as colorful paper streamers and googly eyes.
Use a large cardboard piece to cover the table. Cut out the letters and paint them front and back. Once they are dried, apply Mod Podge with a roller and attach the paper streamers. Once everything is dry, glue googly eyes on the front of the letter and the craft stick on the back for puppeteer accessibility.
Let the child have fun by putting on a puppet show. If is hard to hold the letters up for words that are longer than 4 letters long, add a strip of hook and loop tape across the top so the child can set the craft stick ends into it and the hands are free for more letters.
Working on spelling words and sight words becomes very easy and turns into a game. The child will become excited about words and the study session will pass in no time.
For detailed instructions and to get additional fun spelling ideas, check out Kids Activities Blog this month. Come get inspired to get the kids learning while having lots of fun.
About Kids Activities Blog
Kids Activities Blog is a website created by two moms (who collectively have 9 children), Rachel Miller and Holly Homer from June Cleaver Nirvana. It is their daily goal to inspire parents and teachers to play with kids. This interactive website publishes simple things to do with kids twice a day. Kids Activities Blog is a great tool for moms and teachers to find kid-friendly activities that create memories and sneak learning into the fun.