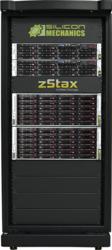 "The end user is not locked into any particular hardware platform. It's a new paradigm, and it's all based on open standards," said Steve Scherer, solutions manager for Silicon Mechanics.
Bothell, WA (PRWEB) April 08, 2013
Silicon Mechanics, Inc. announces that it has supplied its zStax unified storage appliance, powered by NexentaStor, to Global Legal Discovery, an Atlanta, Georgia-based firm that provides electronic discovery (eDiscovery) services. Silicon Mechanics configured a unified storage appliance specifically tailored to meet Global Legal's needs, using a software-defined storage model, at a fraction of the cost of legacy tiered storage.
The unified storage appliance, called zStax StorCore, offers tiered storage, with high-performance and archive tiers running on the same platform. The base system includes support for numerous protocols, including Internet Small Computer System Interface (iSCSI), Common Internet File System (CIFS), and Network File System (NFS).
The zStax StorCore is built on industry-standard hardware, and powered by NexentaStor, an enterprise-level software-defined storage platform based on open-source ZFS technology. In addition, unlike legacy storage systems, zStax users can move data and replicate it for disaster recovery at no additional cost.
Global Legal implemented the platform with 3.3 terabytes of storage, which it has since increased to more than 200 TB, at huge cost savings over most legacy hardware storage products. "We were looking for a storage infrastructure that could handle our rapidly expanding volume of data, while still guaranteeing performance and reliability," said Jonathan Gudger, program manager for Global Legal. "This tiering approach dramatically lowers our total cost of ownership."
As a Seagate Cloud Builder Alliance partner, Silicon Mechanics deployed Seagate Enterprise SSDs as well as Seagate Enterprise Performance 15K drives to build out the tiered infrastructure, and will continue to rely on Seagate technology to ensure cutting-edge performance in future.
Steve Scherer, solutions manager for Silicon Mechanics, explains that the software-defined storage architecture is a radical departure that decouples software from its underlying hardware. With the traditional storage model, legacy vendors develop storage software and deploy it on proprietary hardware. "By decoupling the storage software from the hardware, we can deploy enterprise-grade software on industry-standard hardware," Scherer said. "The end user is not locked into any particular hardware platform. It's a new paradigm, and it's all based on open standards." For the full story, go to http://www.siliconmechanics.com/casestudies.
About Silicon Mechanics
Silicon Mechanics, Inc. is an industry-leading provider of rackmount server, storage, and high-performance computing solutions. Deploying the latest innovations in hardware and software technology, we work in collaboration with our customers to design and build the most efficient, cost-effective technology solution for their needs. Our guiding principle, "Expert included," is our promise that reflects our passion for complete customer satisfaction, from server and component selection to superior installation and ongoing technical support.
Silicon Mechanics has been recognized as one of the fastest growing companies in the Greater Seattle Technology Corridor.
About Global Legal Discovery, LLC
Global Legal Discovery is a highly motivated team of project managers and e discovery specialists dedicated to providing document and ESI solutions to law firms and corporate legal departments. Our upper management team has over 35 years combined experience in litigation support. Our mission is to provide superior customer service to our clients while maintaining a rewarding and exciting working environment for all of our team members.