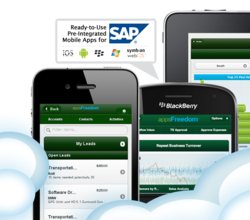 According to Forrester's Enterprise Mobility Research Report, the mobile apps market is expected to reach $37 billion by 2015.
Chandler, AZ (PRWEB) April 09, 2013
appsFreedom™, a leading provider of cloud-based enterprise mobility solutions for SAP, announced today that it has closed its Series A funding led by Grayhawk Venture Fund II, L.P.
appsFreedom provides packaged, pre-integrated mobile apps that help businesses leverage the new mobile workforce. Users have secure, real-time access to enterprise systems from any computer, smart phone or tablet device. appsFreedom ensures every transaction is seamlessly and securely synchronized between devices, allowing users to be more productive and responsive from anywhere.
appsFreedom will use this round of funding to support expansion of its product and platform development efforts. In addition, the current funding round will allow the company to increase marketing and sales efforts.
"We've watched the tremendous market response to appsFreedom and their products in recent years and are thrilled to support their current growth strategies," commented Brian Burns, managing member at Grayhawk Capital. "appsFreedom's success is being driven by management's dedication to offering innovative solutions that exceed the needs of their clients. We are excited to contribute to the growth and global expansion of appsFreedom."
"This funding round is a great vote of confidence for the long-term potential and vision of our company to be the industry leader in cloud-based enterprise mobility," said Vaidy Iyer, founder and CEO, appsFreedom. "We have already gained a significant amount of momentum and credibility defining this category, and we plan to use this funding to invest even more heavily in ensuring the success of our customers and to further accelerate our growth."
According to Forrester's Enterprise Mobility Research Report, the mobile apps market is expected to reach $37 billion by 2015. Since appsFreedom's inception, the company has seen significant traction of its cloud-based mobile apps with global customers in a wide-range of industries including pharmaceuticals, high tech and electronics, oil and gas, engineering, construction and operations, and manufacturing. The current mobile market environment combined with appsFreedom's scalable technology platform, intuitive product design and flexible engagement model, positions the Company for mass adoption and significant revenue growth.
About appsFreedom™
appsFreedom, a SAP Certified Solution Partner, is a leading provider of cloud-based mobility solutions for the enterprise. The appsFreedom® solution offers ready-to-use, pre-integrated apps that give users secure, real-time access to enterprise systems from any desktop or mobile device including smart phones, tablets, ultra-books and laptops. Apps are delivered as a service (SaaS model) and are implemented in just weeks since no source system development or configuration is required. The appsFreedom solution offers apps for Sales, Executives, Procurement, HR and Field Services. For more information about appsFreedom, visit http://www.appsFreedom.com.
About Grayhawk Capital
Grayhawk Capital is a leading venture capital firm in the Southwest focused on promising early-stage and growth-stage technology companies. Since1995, Grayhawk Capital has been making investments in companies with strong business momentum, operating in large markets, and led by operations-oriented executives. Grayhawk Capital is an active, involved partner in their portfolio companies so their investments are primarily focused on companies located in the southwestern United States. Grayhawk has historically invested in a number of industries including Software, Internet, Technology-Enabled Services, Healthcare IT and Financial Services.