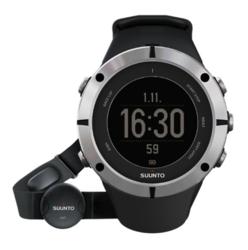 This is the most bombproof and rugged Suunto Ambit ever built
Bozeman, MT (PRWEB) April 30, 2013
The new Suunto Ambit 2 Sapphire model is a follow-up to the Suunto Ambit which was the most successful GPS watch in the company's history.
"This GPS watch has a super thick sapphire crystal and a ceramic face with a steel body", says Rusty Squire, President of the Heart Rate Watch Company. He adds, "The Ambit 2 Sapphire also has a much larger memory for apps, workout storage and firmware updates along with all the advanced fitness and navigation features of the original Ambit."
EXTRA HEAVY DUTY
The new Suunto Ambit 2 Sapphire is built with a real steel bezel so, in combination with its rugged crystal, it is made for the most rugged of outdoor adventures. "This is the most rugged Suunto Ambit ever made so it can take on the mountains and the office," says Squire.
The Ambit 2 Sapphire uses a real barometric altimeter, unlike the new 2S sports edition which only uses a GPS based altitude, so it is more accurate and the Fused Altitude combines measurements from a barometric altimeter with GPS to further improve accuracy.
"This is the most bombproof and rugged Suunto Ambit ever built," says Squire. He adds, "Not that the original Ambit was soft because John Yarington crashed one in a lava field and it survived even though he landed on the crystal."
This GPS watch is ideal for someone who wants the most rugged and best looking Suunto Ambit ever made according to Squire. Like all Ambit's, the screen is reversible and it has ANT+ technology with all the capabilities and a much improved memory.
The Suunto Ambit 2 Sapphire will be available in very limited quantities so if you want one Squire recommends reserving one as soon as possible.