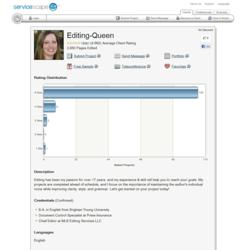 All freelancers who are part of ServiceScape have already agreed to provide services within this construct, so there is no need to discuss due dates or to haggle about prices or requirements
Brookline, Mass. (PRWEB) April 09, 2013
ServiceScape.com, a new marketplace for editing, translation, and graphic design services, launches today to supplant the online service normality of bidding, haggling, and crowd contests by establishing dynamic project templates that can adapt for every form of commerce. Through ServiceScape, businesses can find the right freelancer by viewing hundreds of profiles containing descriptions, credentials, portfolios, and client ratings of past projects. Users can send a message to a freelancer that details every aspect of a project need, or set up a conference call and communicate directly with a professional.
Hosting multilingual editing, translation, and graphic design services, ServiceScape has professionally translated its user interface - which consists of nearly 30,000 words - into 14 languages, including Arabic, Chinese, French, German, Greek, Hebrew, Hindi, Italian, Japanese, Korean, Portuguese, Russian and Spanish. ServiceScape has also implemented an online drag and drop desktop for service-related activities that allows users to manage projects, messages, and other users with ease.
"All freelancers who are part of ServiceScape have already agreed to provide services within this construct, so there is no need to discuss due dates or to haggle about prices or requirements," said David Costello, CEO of ServiceScape.com. "Prices, due dates, and all relevant service options have been integrated into editing, translation and graphic design project templates, making setting up a transaction as effortless as buying a product online. Just submit the project when you are ready, and the professional will start working on it immediately."
When clients select freelancers, they can submit and pay for their projects in just a couple of steps. There is no posting help wanted ads, waiting for bids, or waiting for contest submissions. Except in the case of custom projects, all aspects of project creation have been predefined within ServiceScape. As opposed to other login areas which are primarily link-oriented designs, ServiceScape's drag and drop functionality allows clients and professionals to perform a variety of tasks within the desktop itself without having to click on links to drill down, increasing the efficiency of both commerce and interaction.
About ServiceScape.com
ServiceScape is a global marketplace for service-related commerce. An expansion of the freelance directory systems of EditAvenue and LanguageScape, ServiceScape provides the construct for online outsourcing whether you need an experienced professional for your project, you are an experienced professional who seeks increased visibility, or your business requires access to a freelance labor force. ServiceScape is a privately held company based in Massachusetts. For more information, visit http://www.servicescape.com.