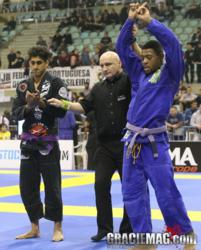 Los Angeles, CA (PRWEB) April 11, 2013
Team Lloyd Irvin produced three Champions and three more medalists at this past 2013 Pan American Championships. With the entire jiu jitsu community watching in anticipation, the Team medaled in five different categories.
Rising star Tim Spriggs, Purple Adult Male Heavyweight, won his division, finishing the majority of his opponents. Aarae Alexander won her first Pans at Purple Adult Female Lightweight, winning all four of her matches on points.
DJ Jackson, the Team Lloyd Irvin star Black belt, would claim a Bronze medal in the Black belt Male Adult Middle class. He would defeat the legendary Formiga with a wrist lock in the quarterfinals, before falling to Clark Gracie via points in the Semis.
Sijara Eubanks took silver at Brown Belt Adult Female Medium-Heavy class and Gold in the Brown Belt female open class. Arthur Ceesay snagged the Blue Adult Male Middle weight bronze.
With a fantastic showing at the Pans, look out for Team Lloyd Irvin to have more success at the oncoming IBJJF World Championships this May. Until then, there's the WPJJC in Abu Dhabi this week, the New York Open next week, Copo Podio and other tournaments.