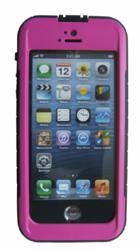 The new waterproof SlimLine case is just slightly over half an inch thick, and protects against water, sand, dust, and shock.
Sunrise, FL (PRWEB) April 10, 2013
Keystone ECO™ offers a new silhouette for iPhone 5 this summer. The slimmed down waterproof case comes in sizzling new summer colors: Fuchsia, Lime, and Blue, in addition to traditional Black, or White.
The SlimLine waterproof case has a clear PET touchscreen with full functionality and allows access to all buttons. Outdoor enthusiasts can talk and text, as well as capture images and video while in the sun & surf or any outdoor conditions. This new waterproof SlimLine case is just slightly over a half an inch thick, and protects the phone from shock, water, sand and dust. In addition, the case keeps the iPhone 5 safe and dry at depths of 6.6 feet/2 meters below the water's surface. Use it in the pool, at the beach, in the surf, or anywhere you want to capture underwater photography and video and protect your iPhone.
Three key differences separate SlimLine from other competing brands: Ease-of-use; safety features & accessories; and finally, its price. To install the iPhone 5 in the SlimLine case, simply place it into the case and click to lock. That's all there is to it. There is absolutely no assembly required for this one-piece unit. Safety is also a top priority, and the SlimLine features a rubberized outer rim that protects the iPhone from bumps and scrapes while also providing a comfortable and sturdy grip. The adjustable wrist strap keeps the phone and case secure and prevents accidental droppage in water. Lastly, the MarineCase SlimLine is affordable, and at $49.99 is the most cost effective of all similar cases on the market.
If snow or water skiing, hiking, boating or other outdoor activities are more your style, the SlimLine case is also snow-, sand-, dust-, and shock- proof. It offers rugged protection for those who shoot photography and video, use the Internet, or use talk and text features in any terrain.
MSRP: $49.99
*This SlimLine Case is also available for iPhone 4S/4 in either black or white.
Specifications
Name: SlimLine
Model No.: WPS5
Compatibility: iPhone 5
Certification: IPX8 Certified. Water-proof, sand-proof, dust-proof, snow-proof, shock-proof
Dimensions: 5.1" X 2.7" X 0.6"/130mm X 69 mm X 15 mm
Weight: 1.45 oz / 41.3 g (without phone)
Packaging: PVC Box
Package
Contents: Waterproof case, adjustable wrist strap, user manual
Product Colors: Black, White, Fuchsia, Lime, Blue
Materials: Transparent PET screen protector; Polycarbonate hard shell with rubberized bumper
About Concord Keystone
Florida-based Concord Keystone Trading, LLC and its sister companies, Urcovest, LLC, and Concord Keystone Trading Limited, located in Hong Kong, develop, manufacture, and distribute high-quality, low-cost imaging, phone accessories & portable power products. Urcovest and the Concord Companies market products under the following trademarks owned by Urcovest: Keystone ECO™, Easy Shot Clip™, Fun Shooter®, Concord®, Keystone®, and Easy Shot®; and the following trademarks licensed by Urcovest: Polaroid.