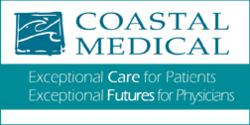 "We are a unique option for practices." said Coastal President & CEO, Al Kurose, MD. "Physicians who merge with Coastal become owners of a very successful patient centered and physician run organization."
PROVIDENCE, RI (PRWEB) April 09, 2013
Coastal Medical, the state's largest physician owned and physician governed primary care group practice announced today that Hillside Family and Community Medicine, Pawtucket, RI and South County Family Medicine, Narragansett, RI, have signed agreements to join their practice.
Both primary care groups are high quality practices and early adopters of the patient centered medical home (PCMH) model of care. While their names may change slightly, their locations and commitment to patient centered care will not change. In fact, many services for patients will now be expanded.
Hillside Family and Community Medicine, located at 727 East Avenue, Pawtucket, is the largest Family Medicine practice in Rhode Island. Their six physician group has been providing quality care to patients for 20 years. "We decided to merge with Coastal because our two organizations have, independently, been moving and transforming ourselves in similar ways around the PCMH and practice transformation model of care. We share values and complement each other's efforts" said Kenneth Sperber, MD, of Hillside Family Medicine. "Also, in this effort we have really moved as far forward as we could as an independent practice and we are, justifiably I think, proud of our accomplishments. "Joining with the foundation Coastal has laid towards building a true ACO brings us additional resources to continue that work and that vision, together with Coastal." The Coastal Hillside Family Medicine physicians are Christopher Campanile, MD, Hana Hagos, MD, Barbara Jablow, MD, Christine Kennedy, MD, Cristina Mitchell, MD and Kenneth Sperber, MD, Carla Garcia-Benoit, NP Of
Coastal Narragansett Family Medicine is a four physician practice located at 360 Kingstown Road, Narragansett. The group has been caring for patients in their current location for 10 years. "We wanted to join because Coastal physicians spoke highly of the improved administrative efficiency in their practices which allows them more time to focus on patient care," said Catherine DeGood, DO of Narragansett Family Medicine. "The Coastal mission statement encompasses what our office has been striving for on a small scale. With the help of Coastal's infrastructure, we will better reach our goals of patient centered, cost efficient, high quality healthcare in a collaborative environment." The providers in this practice are Catherine DeGood, DO, Dariusz Kostrzewa, MD, Eileen Gonzalez, MD and Michael Gonzalez, MD.
These mergers come at a time when many small medical groups are grappling with decisions about the future of their practices. "We are a unique option for practices." said Coastal President & CEO, Al Kurose, MD. "Physicians who merge with Coastal become owners of a very successful patient centered and physician run organization. They have the opportunity to truly decide what their futures will look like. The infrastructure we provide sets them up for success. We are pleased to have these two very high quality Family Medicine groups join Coastal."
Coastal Medical is Rhode Island's first Medicare Shared Savings ACO as well as the state's largest physician owned and physician governed primary care group practice. Coastal provides predominantly primary care, along with some specialty services, to 130,000 patients in 20 medical offices across Rhode Island. Coastal also owns state-wide laboratories, an imaging center and a medical billing company that provides services to physician practices and hospital owned medical practices across the country.
###