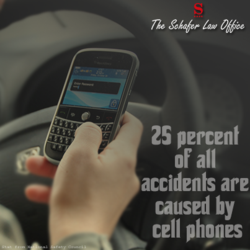 The more the public is educated on the dangers of texting and driving, the greater the number of accidents that will be prevented
Louisville, KY (PRWEB) April 09, 2013
Cell phones have been a powerful tool for communication, but Kentucky Auto Accident Attorney Mike Schafer today voiced support on companies implementing on-the-job cell phone policies.
"Cell phone distracted driving has become an ongoing national epidemic,"Schafer said. "The growing epidemic of cell phone use while driving takes more American lives than any other form of injury."
According to the latest statistics revealed by the National Safety Council, an estimated one in four crashes involves drivers using cell phones; hence, becoming the number one cause of work-related fatalities.
Schafer pointed out that on-the-job crashes affect not only the employee and the victims but the employer, too.
"On-the-job crashes are a heavy burden to employers, incurring costs of more than $24,500 per property damage crash and $150,000 per injury crash. If there have been deaths, costs can go up to millions. This is the reason why many companies are now implementing comprehensive cell phone policies and these include the prohibition from talking and texting while driving on the job," Schafer explained.
Employers are liable and legally responsible for the cost of the accident involving its employees. However, if the accident took place when the employee was off-duty, or not within the scope of employment, or it was done out of personal will, the employer might not be held liable.
Schafer added that an online survey has shown that 1 out of 5 Fortune 500 companies has acknowledged the risk related to cell phone use while driving and 50 percent of the 13,742 National Safety Council (NSC) member companies had either handheld or full cell phone bans.
Aside from employer cell phone policies, Schafer also supports education programs about the dangers of texting and driving. On April, 25, 2013, the National Safety Council will conduct its free one-day seminar at the Long Beach Convention Center. During the seminar, participants are expected to learn why cell phone distracted driving is dangerous, what to include in a cell phone policy, and how to educate employees about the policy and ensure compliance.
"I do support any education programs. The more the public is educated on the dangers of texting and driving, the greater the number of accidents that will be prevented. This is a national epidemic," Schafer stated.
April is Distracted Driving Awareness Month. The Schafer Law Office urges all drivers to take action to reduce distracted driving and employees to follow their company cell phone policies.
About Mike Schafer
Mike Schafer is sole practitioner specializing in Civil Litigation including automobile accidents, slip and fall and wrongful death cases. He helps victims of various types of accidents receive adequate compensation. He can be contacted at:
The Schafer Law Office
1218 South 3rd Street, Louisville, KY 40203
Phone: (502) 584-9511
Fax: (502) 636-4702
Toll Free: 855-487-4878
Website: http://www.mikeschaferlaw.com/