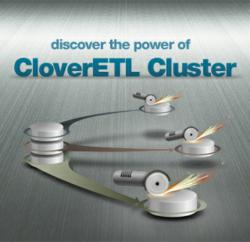 With the CloverETL Cluster, we can manage significant volumes of data from just about any source.
Arlington, Virginia (PRWEB) April 10, 2013
Arlington, Virginia, 3 April 2013 - Javlin, provider of CloverETL data integration software, announced today that Allant Group, an industry leader among Enterprise Database Marketing Service Providers, has selected the CloverETL Cluster to modernize its data processes and focus its efforts on customer analytics and data-driven applications. The growth faced by Allant, in both data volume and complexity, drove a need to streamline operations, improve data transformation, and optimize data management, all which support a wide variety of client marketing and advertising applications.
John Feldkamp, Senior Vice President of IT Services for Allant, said, "We needed a deeper data integration software like CloverETL. Allant can now move to the next level in providing high quality data solutions to our clients, as well as managing our ever-growing, enterprise-wide data processing platform. With the CloverETL Cluster, we can manage significant volumes of data from just about any source."
The CloverETL Cluster now gives Allant the flexibility and performance to achieve its goals, and with the open architecture of CloverETL, Allant can easily integrate existing tools and proprietary utilities for data cleansing and data quality. In addition, Allant's ability to customize and develop within the CloverETL platform affords its customers and other third-party vendors to meet changing product and industry demands. The CloverETL Cluster eases the burden of scaling infrastructure and data management across multiple business units, and this flexible deployment model further ensures data processing will not be a bottleneck within Allant.
Peter Cresse, EVP of Sales at Javlin, said, "Allant Group's audience management solutions bring real value to its clients. With the CloverETL Cluster, Allant can manage a wide variety of audience data and formats. CloverETL also empowers Allant's internal users to utilize a common platform, creating a more efficient data pipeline and allowing best practices to be deployed enterprise wide. It's great to be a part of their forward-looking vision."
About CloverETL® and Javlin
CloverETL is a data integration platform optimized for direct applications or OEM uses. With its light footprint and flexibility, it can run as a standalone application or be embedded into wider solutions for Analytics, Business Intelligence (BI), Data Warehousing, and many other applications. CloverETL is developed and supported by Javlin, a data solutions company with a long record of experience in providing data software and services to the largest global enterprises. http://www.cloveretl.com
About The Allant Group
For 29 years, Allant has been consistently delivering innovative marketing performance improvements to clients through integrated cross channel marketing solutions driven by best in class data, analytic, technology, strategy, and measurement capabilities. Evolving beyond Marketing Optimization to Audience Optimization solutions, Allant delivers customer intelligence across all addressable channels to produce maximum yield for every marketing/advertising dollar invested. For more information on Allant and its products, services, and solutions, call 800.367.7311 or visit Allant online at http://www.allantgroup.com.
For all media inquiries, contact:
Pavel Najvar
Marketing Director, Javlin
Phone: (703) 259-8585
Email: pavel.najvar(at)cloveretl(dot)com