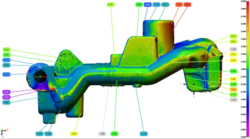 Cincinnati, Ohio (PRWEB) April 09, 2013
As part of its ISO 17025 quality inspection services, 3D Engineering Solutions recently announced it now provides color mapping technology for first article inspection of cast parts. Color mapping provides qualitative illustrations that show the difference between a scanned object and its nominal design. "We provide different types of analysis for our customers, giving them both quantitative and qualitative data. This saves time and money in the qualification process and makes it easier for our customers to get parts to their customers," said 3D Engineering Solutions President James Irwin.
3D Engineering Solutions primarily uses portable CMM (Coordinate Measuring Machine) laser equipment and precision structured blue light scanning to collect part data. Also available is industrial CT scanning to capture non-'line of sight' or internal features, and long range laser scanning to provide 'as built' comparisons for bridges, buildings and other large objects. Each data collection method then uses PolyWorks point cloud software by InnovMetric to create the color maps. "As part of our inspection services we analyze the data we collect and then help our customers refine or tweak their processes for improvement," said Irwin.
3D Engineering provides ISO 17025 certified reports in multiple formats to accommodate various quality systems, including Production Part Approval Process (PPAP) and AS9100 requirements, for example.
About 3D Engineering Solutions:
3D Engineering Solutions is registered with the State of Ohio for Professional Engineering and is ISO 17025 certified for third party inspection. In their seventh year of operation, the company maintains a state-of-the-art, climate controlled metrology lab, servicing OEM needs for FAI / PPAP inspection, 3D laser scanning, data collection, 3D CAD modeling, and reverse engineering services. Customers rely on 3D Engineering Solutions to design process tooling and fixtures for the automotive, industrial, green energy, nuclear and aerospace industries, using engineering tools such as Siemens advanced NX7.5 Mach 3 CAD platform. Leading edge point cloud software, InnovMetric PolyWorks, allows a common software platform for collecting data across all of Faro laser-based data collection platforms. 3D Engineering Solutions brings more than 100 years of collective experience to every engineering project. For more information about quality inspection services, or for general information about 3D Engineering Solutions, call 513-771-7710 or visit the company's website: http://www.3D-engineering.net.