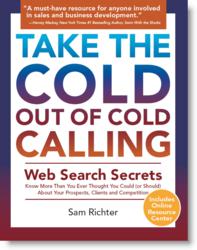 The MUST have sales intelligence and sales success book for 21st Century Social Selling.
Minneapolis, MN (PRWEB) April 09, 2013
SBR Worldwide LLC today announced the 10th edition of its best-selling book, Take the Cold Out of Cold Calling (http://www.takethecold.com), by award-winning author and internationally top-ranked keynote speaker Sam Richter.
The updated 10th edition features new methods for finding the inside information on companies, industries and people using search engines, social networking sites, and other online resources. In addition, Richter offers new examples and case studies on how leveraging information can dramatically improve sales success and individual performance.
The book was first published in 2008 and has received rave reviews. Because the Internet has changed so much in the past five years, approximately 80 percent of the book's content is completely new. Yet the concepts of leveraging information to identify opportunities and establish relationships are timeless.
In 2012, the book's ninth edition was named the Sales Book of the Year by the American Association of Inside Sales Professionals, a 1,500-member organization devoted to excellence in Sales. Previous book editions have won awards including an Independent Publisher Book Award, Best Sales Book Award, and a USA Book News National Best Book Award.
Order books at http://www.takethecold.com, through Amazon.com or through any book store.
About Sam Richter:
Sam Richter is considered one of the world's leading authorities on sales intelligence, social selling, and finding information online for sales success. Through his books, software, and Know More! business improvement programs, Sam has trained leading organizations and entertained tens of thousands of persons around the world on how to find information and use it to ensure relevancy and provide value in every sales meeting and interaction.