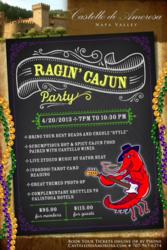 We know they'll add just the right spice to the evening.
Napa Valley, CA (PRWEB) April 10, 2013
Castello di Amorosa is excited to be featuring live music performances by Gator Beat, a high-energy Zydeco and New Orleans R&B band based out of Sonoma.
"We are absolutely thrilled to have such an incredibly talented group showcase their Cajun style here at the Castello," said President Georg Salzner. "We know they'll add just the right spice to the evening."
Known as "The Band with a Beat that Bites," this six-member group sizzles with the sounds of Southern Louisiana, and will be keeping the Cajun beats going throughout the evening in the castle's acoustically-inspired courtyard, where partygoers will be able to dance the night away in a fun and festive atmosphere.
Each featured room in the castle will highlight a different facet of Louisiana culture and cuisine, with dishes artfully prepared by Oak Avenue Catering. Guests will dance their way through the "Bourbon Street"-inspired courtyard and be tempted by the smells of fresh-baked beignets, or stroll through the "bayou" in the castle's Great Hall while sampling hot and spicy Gumbo. From crawfish boils to a Fat Tuesday fry station, this wide sampling of Cajun cuisine will be certain to please every palate, and pair fantastically with the Castello's wide selection of wines.
The Castello will even be featuring a Cajun-inspired cocktail with their top-selling sparkling dessert wine, La Fantasia, which is sure to be a fun and effervescent crowd-pleaser.
Guests are encouraged to bring their best beads and Creole "style" for this fun and free-flowing evening of music, dancing, food, and wine. Cost is $95 for the winery's wine club members and $115 for non-members.
About Castello di Amorosa: Following fourteen years of construction, Dario Sattui opened Castello di Amorosa in April of 2007. Situated in the hills above Calistoga, Castello di Amorosa - a family-owned business - produces world-class wines including popular white and red wines as well as proprietary Italian-inspired blends, including Il Barone, La Castellana and Il Passito. Wines are sold only at the winery. The castle winery was made with brick, wood and iron imported from Europe and combined with over 8,000 tons of local Napa Valley stone. Today, Castello di Amorosa, a popular Napa Valley destination, offers a variety of wine tastings and winery tours in a unique Tuscan castle setting.
For more information, please visit http://www.castellodiamorosa.com.
For the history of Castello di Amorosa: http://www.castellodiamorosa.com/blog.