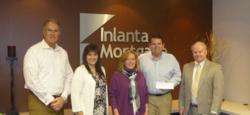 Inlanta Mortgage and Habitat for Humanity Waukesha County share a common mission. We both want to help more people achieve their dreams of home ownership.
Brookfield, Wisconsin (PRWEB) April 09, 2013
Inlanta Mortgage is pleased to announce its sponsorship of Habitat for Humanity Waukesha County's (HFHWC) 5k Home Run/Walk. This first annual event will take place on May 18 at Frame Park in Waukesha, Wis. and all proceeds will benefit HFHWC and its mission.
"Inlanta Mortgage and HFHWC share a common mission - we both want to help more people achieve their dreams of home ownership," CEO John Knowlton said. "We are pleased to support their efforts to raise funds for current and upcoming home builds and to build awareness of HFHWC's efforts in our local communities. Several of our employees are excited to be participating in the Home Run/Walk, of which we expect to have a little friendly competition."
"Habitat for Humanity is honored to partner with Inlanta Mortgage for our first annual 5k Home Run/Walk. Inlanta has been a strong supporter of us in the past, and we truly appreciate this new opportunity to pool our resources," HFHWC Board President Betsy Ellis said. "Thanks to Inlanta's efforts, we are that much closer to the completion of homes for two qualified families in Waukesha County, as well as laying the groundwork for our next build. Community-minded companies such as Inlanta help us make the dream of home ownership for low income families possible. Inlanta's generosity is more than a gift to our organization; it is a gift to our community. For every family that has a safe, healthy home, our community prospers. Thank you, Inlanta Mortgage!"
Along with the sponsorship of the event, Inlanta employees will be participating in the run/walk as individuals and in groups. Employees are looking forward to representing the Inlanta team and supporting the organization's fundraising efforts.
Anyone interested in signing up for the event should visit the HFHWC's website http://www.hfhwaukesha.org and any businesses interested in participating can email waukeshahabitat(at)gmail(dot)com.
About Inlanta Mortgage
Headquartered in Brookfield, Wis., Inlanta Mortgage was established in 1993. The company has grown to 34 branches in 17 states and over 200 employees. Inlanta Mortgage provides its partner branches with Fannie Mae/Freddie Mac agency products, as well as a full suite of jumbo and portfolio programs. The company is delegated FHA/VA, FHA 203K and USDA approved.
Inlanta Mortgage was named a Top Workplace in 2012, has been listed on Mortgage Technology's Top 25 Tech Savvy Lenders List in 2010, 2011 and 2012, Milwaukee Business Journal's "Top 25 Largest Milwaukee-Area Mortgage Banking Companies," and Mortgage Executive Magazine's "Top 100 Mortgage Companies in America" in 2011 and 2012. Inlanta Loan Officers have also been named as Milwaukee Magazine's "Top Mortgage Professionals.
The company's platform supports high producing professional partner offices with the latest technology and product menu focused on unsurpassed service and quality to both the consumers and employees. Inlanta takes pride in the highest level of honesty, integrity and ethics in all its business dealings. It is a member of numerous state Mortgage Bankers Associations and Lenders One, the largest cooperative of mortgage bankers in the nation. Inlanta is an accredited member of the Better Business Bureau with an A+ rating. For more information, please call Inlanta Mortgage at 262-439-4260, email info(at)inlanta(dot)com or visit the company's website at http://www.inlanta.com.