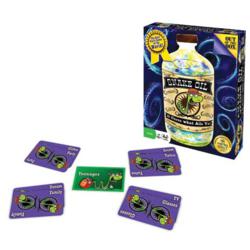 Apples to Apples on steroids
Windsor, Wisconsin (PRWEB) April 10, 2013
Could you sell a glitter party to a teenager? How about a noise nose to a clown? If so, then you could be the winner of Out of the Box's newest game, Snake Oil. Recently released at the 2013 New York Toy Fair, Snake Oil is already being touted as "Apples to Apples on steroids" and a "humor elixir."
In Snake Oil, one player chooses a customer card and acts as the customer for the round. The remaining players combine two of the cards from their hands to create an item to sell to that customer. The outlandish sales pitches easily spark laughter from everyone playing.
First designed in 2010 by Jeff Ochs and Patricia Kaufman, Snake Oil was released by Snake Oil Llc, before being licensed by Out of the Box Publishing. Jeff came up with the concept for Snake Oil while reading a catalog on an airplane. "After joking about some of the products, I noticed a pattern developing. A lot of products were combinations of two random nouns, like camera goggles and pet stairs," Ochs says. "My friend and I started playing with random noun combinations to create new products, and we entertained ourselves for the rest of the flight." At the 2013 New York Toy Fair, Out of the Box released a newly redesigned version of Snake Oil with an updated box size and graphics.
In its first year in production, Snake Oil received the Mensa Mindgames Select Award, Games 100 Award, Dr. Toy Best Vacation Product Award and Major Fun Keeper Award. In addition to the fun and social aspects of the game, Snake Oil has received rave reviews from teachers and business coaches as a tool for teaching creativity, salesmanship, and social skills.
Contact Leah(at)otb-games(dot)com for image and press sample requests.
Snake Oil®
It Cures What Ails Ya!
Ages 10 and up, 3-10 players, $19.99 suggested retail. http://www.otb-games.com/games/party-games/snake-oil/
About Out of the Box Publishing
Since 1999, Out of the Box Publishing has created award winning games that can be learned in minutes, played in less than an hour, and enjoyed for a lifetime. Headquartered in Windsor, WI Out of the Box produces a gamut of party games, quick-play card games, and engaging strategy games to delight the entire family. Inspiring fun has always been our mission, and happiness can be found….right Out of the Box! http://www.otb-games.com