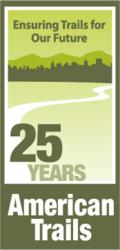 Help us congratulate our 2013 American Trails' National Trails Awards Winners!
Redding, CA (PRWEB) April 19, 2013
The National Trails Awards is one way American Trails recognizes the exemplary people across the landscape of America who are working to create a national system of trails to meet the recreation, health, and travel needs of all Americans. Awards are given out every two years during the American Trails National Symposium. The Symposium is an opportunity for people in the trails community to network and learn state-of-the-art trail planning, development, and management techniques.
International Award: Jeju Olle Foundation, South Korea
The Jeju Olle Foundation has been working diligently to develop trails since its founding in 2007. The foundation operates on the South Korean island of Jeju, the first Korean area to be given the title of an UNESCO World Heritage Site. In less than five years, the foundation has overseen the construction of 25 trail sections on the island, totaling 411 kilometers of pathways, which circumnavigate the island. The foundation is also responsible for organizing the 2011, 2012, and 2013 World Trail Conference, and is initiating the impressive World Trail Network that will aid in the dissemination of trail knowledge amongst trail professionals across the globe.
Honorable Mentions:
New Zealand Cycle Trail Team
The New Zealand Cycle Trail is over 1700 kilometers long, creating 20 great cycle paths across the country.
Trans Canada Trail
Over the past 20 years, Canada has constructed over 16,800 kilometers for the Trans Canada Trail, which connects every province and territory in the country.
Kids and Trails Award: Home Place Adventures
Kids and Trails Award: Honors efforts to engage children and youth in outdoor experiences using trails. Creative interpretive, educational and/or recreational design components are included along with innovative programs which stimulate children's imagination and promote their interest in and appreciation for the natural environment while developing healthy life styles.
Home Place Adventures is a Summer Youth Outdoor Exploration program organized by Jeff Falyn and Lynsday Dawkins. It serves to inspire youths and teens to connect with nature and gain a new appreciation for the outdoors. While in the program, youths are taught environmental awareness, sustainable living concepts, and leadership skills and participate in community giving projects. This past summer, Jeff and Lyndsay helped transform the lives of hundreds of youths, encouraging them to become outdoor enthusiasts and introducing them to the trails community.
Partnership Award: Bay Area Ridge Trail Council, REI, Chipotle Mexican Grill
Partnership Award: This award is given to a partnership that has benefited agencies or services within the field of trail planning, design, or implementation and has contributed toward a positive public exposure for these fields.
The Bay Area Ridge Trail Council, REI, and Chipotle Mexican Grill joined in partnership to organize two REI Ridge Trail Service Days hosted in attempt to build, improve, and maintain the Bay Area Ridge Trail. In addition to increasing public awareness for the Bay Area Ridge Trail, the two service days also introduced volunteers to local parks and open spaces to which they could donate their time and skills. The service days proved a great success with more than 1600 participants of all ages volunteering a total of over 7,100 hours. Dozens of miles of trail were restored, greatly aiding in the push to complete the 550 mile trail.
Community Service Award: Pinetop-Lakeside TRACKS (AZ White Mountain Trail System)
Community Service Award: This award honors a trail organization that performs exceptional community service relating to trails.
Located in White Mountain Arizona, TRACKS is a volunteer group dedicated to the construction and maintenance of horseback riding trails in the community. The group of over 400 members does not limit itself to trail maintenance, however. Each year, TRACKS sponsors and organizes a variety of community enhancing activities, including mountain bike rides, community hikes for seniors, camping trips, and kayak outings. In 2011, the group contributed over 1,800 hours of volunteer work to the White Mountain Trail System as well as nearly 8,000 hours to other community service projects. Some of these projects include implementing an emergency response system; assisting with a forest service tree growth study, supporting the "Save Our Park" campaign, and designing and building a community trail for the City of Show Low.
Trails for Public Service: Roger Sabine
Trails for Public Service: This award is given to an individual that has demonstrated significant and consistent support of trail planning, design, or implementation through strong leadership and/or legislative efforts.
Roger Sabine has been an integral part of the west Michigan trails movement since the 1980s. His role within the movement involves bringing ideas together and building consensus, motivating and inspiring others, assembling the needed project resources, and removing obstacles that stand in the way of his trail building goals. His ability to perform each of these duties has garnered him a long list of accomplishments. In the past two years, Roger has negotiated for the reconstruction of Kent Trails, aided in the construction of the Fred Meijer Millennium Park Trail Network, advocated for the building of the M-6 Trail Bridge, and ensured the completion of two different trail connecting projects. Roger also dedicates his time to mentoring and assisting trail groups and volunteers, and is widely recognized as the driving force behind west Michigan trail development.
Outstanding Media Award: Michigan Department of Natural Resources
Outstanding Media Award: This award is given to an organization or individual that has demonstrated significant and sustained efforts to provide positive public exposure and education in the field of trail use, planning, design, or implementation.
The Michigan Department of Natural Resources has proven to be instrumental in the conservation, protection, and management of the state's trails and natural resources. Over the past two years, the department has promoted positive public exposure of Michigan's trails, highlighted specific trail design projects, established statewide partnerships, and generated renewed interest in trail use. In partnership with Pure Michigan, Michigan's travel bureau, the department established a website highlighting Michigan's many trails. The website serves as a new interface for trail users to explore Michigan's wonderful trail network.
Trails and the Arts Award: The High Trestle Trail Steering Committee and Partners
Trails and the Arts Award: This award recognizes outstanding public art projects, interpretive signs, or other creative structures associated with trail related improvements.
The High Trestle Trail Steering Committee, partnered with the Iowa National Heritage Foundation, RDG Dahlquist Art Studios, and Shuck-Britson/Snyder and Associates to raise $15 million for the completion of a 25 mile rail-trail project. The trail follows the former Union Pacific Railroad and includes a beautiful 13 story art bridge. The bridge contains six observation decks and a scenic overlook, as well as artistic elements illustrating the history of the railroad. The new High Trestle Bridge has become the iconic symbol of the Iowa trail system. It has been featured in multiple publications including the American Trails Magazine, Rails-to-Trails Conservancy Magazine, and Landscape Architecture Magazine, and receives over 500 visitors a day.
Trails for Health Award: Chinese Mountaineering Association
Trails for Health Award: This award recognizes a community's commitment to improving access to trails and promoting their use and importance for increasing physical activity with a commitment to long term change through trails use.
The Chinese Mountaineering Association is a national organization composed of volunteer groups and individuals interested in mountaineering. The association manages, organizes, and promotes public outdoor sports and encourages the public to lead healthy, active lifestyles. A subsidiary of the association, the Outdoor Sports Department, is involved in the planning and construction of high-quality trails and sports fields. Since August 2010, seven of these trails have been completed with four additional trails in progress. All constructed trails are open to the public with the aim of encouraging community members to enjoy the outdoors.
State-of-the-Art Technology Award: Gerry Wilbour and the Northwest Trails Crew
State-of-the-Art Technology Award: This award recognizes a trails-related product, process, or service that has significantly met a need, addressed an issue, or increased efficiency in trail design, development, or maintenance.
Gerry Wilbour served as President of the Professional Trailbuilders Association for several years. His strong leadership skills along with his impressive ability to innovate have enabled him to contribute greatly to trail building. Gerry's innovative capacity is exemplified by his design of a custom "Trail Cat." His modified machine provides greater power than the original trail blazing machines and has the capacity to do work other excavators cannot do. Gerry is also responsible for creating a new and efficient bridge fabrication system, developing more efficient construction methods, and applying geotechnical engineering solutions to challenging environments.
Outstanding Trail Sharing Award: Colorado "Stay the Trail" Program
Outstanding Trail Sharing Award: This award recognizes innovative and successful trail sharing efforts, programs, and systems.
Established in 2002, the Stay The Trail OHV Education Program was developed by the Responsible Recreation Foundation in partnership with the US Forest Service, BLM, and Colorado Parks and Wildlife. The program encourages responsible trail and land use in the state of Colorado. Its outreach activities include towing educational trailers throughout the state, maintaining the program's website, and advertising to increase awareness and discourage irresponsible OHV use on public lands. In addition to educating the public, Stay The Trail works directly with local land managers and recreation staff to provide innovative solutions to trail issues that arise. The program's success has prompted other states and organizations to use it as a model for their own awareness programs.
Planning/Design Award: Feasibility Study Salida to Leadville Trail Corridor
Planning/Design Award: This award honors problem-solving through innovative methods on a trail project. This project includes successful aspects of public participation and/or public agency involvement, and has been planned to enhance the recreational trails opportunities within the project area.
The Feasibility Study Salida to Leadville Trail Corridor assessed the 64 mile multi-use trail that follows the Continental Divide in Colorado. Although the groundwork for the study began much earlier, research officially began in October 2010. Over the course of two years, the study has sought out potential partners, encouraged and initiated public involvement, addressed public concerns, and produced recommendations for the planning of the project. A grant award for the study's Master Plan is anticipated for April 2013.
Corporate Award: Yamaha Motor Corporation, U.S.A.
Corporate Award: This award is given to a business or corporation that has demonstrated significant, sustained, and exemplary service to trail planning, implementation, and/or recreation.
Yamaha Motor Corporation established the Yamaha OHV Access Initiative in 2008 to support the OHV community nationwide. In the past four years, the Initiative has supported thousands of miles of trails by maintaining riding areas, building necessary bridges, and financially supporting nonprofit organizations who seek to increase OHV access in their respective communities. The Initiative's GRANT Program has now invested in 37 different states, contributing over two million dollars in funds to community projects. In addition, Yamaha Motor Corporation's employees have volunteered over 500 hours to the improvement of OHV trails and the planting of trees in the San Bernardino National Forest.
Best Trails State Award: State of Missouri
Best Trails State Award: This award recognizes a state that is facilitating an outstanding statewide system of trails.
Sometimes referred to as the "Show-Me State," Missouri contains a comprehensive trail system managed and maintained by several federal, local, and state organizations, notably Missouri State Parks. The state places a high value on trails, recognizing their potential to support healthy, thriving communities. Missouri is home to several renowned trails, including the Lewis and Clark Trail, the Trail of Tears, and the Santa Fe National Historic Trail, and contains over 500 miles of National Recreation Trails. With its extensive trail system and beautiful landscapes, Missouri has much to offer trail users. The state's continued commendable dedication to the design, construction, and maintenance of trails is what allows Missouri to offer such a wide range of outdoor recreation opportunities.
Lifetime Service Award: Steve Elkinton
Lifetime Service Award: This award recognizes an individual demonstrating long-standing, significant, and exemplary service to trail planning, implementation, and recreation.
Steve Elkinton serves as Program Leader for the National Trails System within the National Park Service. Since being appointed to the position in 1989, Steve's remarkable dedication and leadership has guided the development of the National Trails System. Steve has grown the National System extensively over his career, expanding the number of National Scenic Trails, increasing the National Park Service budget, and adding over 400 National Recreation Trails. He has prompted interagency collaboration, fostered partnerships, encouraged communication, increased awareness, and strongly advocated for trail interests. Steve's exemplary service and commitment to trails and parks has positively impacted the lives of countless trail users.
Hulet Hornbeck Award: Pat O'Brien
Hulet Hornbeck Award: This award is for an individual that, like Hulet Hornbeck, exemplifies long-standing vision and wisdom in support of trails.
Pat O'Brien is a highly accomplished leader and long-time figure in the parks and recreation industry. His support for trails, open spaces, and the environment has garnered him much recognition as has his legislative advocacy. He served as General Manager for the East Bay Regional Park District for 22 years, during which he expanded the park district by over 30%. The park district now sits on 102,000 acres, contains 65 parks, and houses over 1,100 miles of trails. Pat is responsible for positioning the park as the leader in "Green Transportation" and for implementing the "Trails Challenge" program to promote outdoor recreation. His tireless efforts have improved the lives of many in the San Francisco Bay Area and he leaves a legacy that will serve as a model for future generations.
State Trail Advocacy Awards:
State Trail Advocacy Awards: The Trail Advocacy award is given to an individual that has demonstrated successful efforts to influence public policy relating to trail planning, trail protection, trail development, or maintenance.

Alabama-Danny J. Hubbard
Arizona – Dave Hicks
Arkansas – Mayor Patrick Henry Hays
California-Supervisor Michael D. Antonovich
Colorado-Dave Wiens
Delaware – Karl Lehman
Florida- Mickey Thomason
Georgia – Terry Palmeri
Idaho – David Gordon
Kansas – Cecilia Harry
Louisiana-Jimmy L. Anthony
Michigan – Jim Radabaugh
Minnesota – Mary Straka
Missouri- Dan and Connie Burkhardt
Montana-John Brewer
Nevada –Bill von Phul
New York- Parks & Trails New York
North Carolina – Morgan Sommerville
Ohio-Robert A. Fonte
Oregon – Chuck Frayer
South Carolina- Staci Williams
Tennessee- Daniel Reese
Texas – Friends of Northaven Trail
Virginia-Larry Miller
Wyoming –Jeff Wiggins
State Trail Worker Awards:
State Trail Worker Awards: The State Trail Worker Award recognizes an individual that has demonstrated outstanding contributions and provided consistent support for trail planning, development, or maintenance. It is intended to recognize the commitment and efforts of a private or public sector individual working for enhanced trail recreation in their local area/state.
Alabama- Erin Wiggins
Alaska- Barth Hamberg
Arizona – Troy Dymock
California-Bill Carter
Connecticut-Russ Waldie
Delaware-Meinrad Leckie
Florida- Charles and Anne Thrash
Hawaii – Fred Bannan
Illinois- Eileen Weyhrich
Indiana – Milan Kruszynski
Kansas – Bunnie Watkins
Kentucky – Mike Bossert
Louisiana – Freddie Paul
Maine – Sally Jacobs
Massachusetts – Scott Monroe
Michigan – Ed Morse
Minnesota-Jeff Klein
Missouri-Russell and Tammie Martin
Montana- Hillary Hanson
Nebraska – Dale Rabideau
Nevada-Suzanne Shelp
New Jersey – David and Monica Day
New Mexico- Tom Mayer
New York- Jane Daniels
North Carolina- RG Absher
North Dakota- Jamie Wetsch
Ohio – Greg Jackson
Pennsylvania- Stephen P. Pohowsky
South Carolina – Christine Ellis
Tennessee- Jim Johnson
Utah- Adam Stoldal
Washington- Robert Pacific
West Virginia- Charles L. Dundas
Wisconsin-Dick Kroener
Wyoming- Bruce Burrows
Developer Award:
Developer Award: This award is designed to recognize quality, well designed, multi-use trails systems that are integrated into private developments.
Desert Mountain, Scottsdale, Arizona
Developer: Desert Mountain Master Association & the Desert Mountain Club, Inc.
Located in Scottsdale, Arizona, Desert Mountain is a golf and active outdoor lifestyle community that contains 30 miles of walking, jogging, and biking paths. Its 8,000 acres sit next to the three million acre Tonto National Forest making the community a hub for outdoor recreation. The community recently acquired 3,000 acres of upper Sonoran Desert Wilderness that they will preserve with the construction of a multi-use trail system, the Desert Mountain Trails. Currently, over six miles of trail have been completed; however, the final "Stack Looped" trail system will include over 14 miles of trail.
The Parkway at Blue Ravine, Folsom, California
Developer: Parker Development Company
The Parkway at Blue Ravine is a master-planned community located in Folsom, California. It sits on 612 acres, over 200 of which are dedicated to park and open space uses. The Parkway recently developed the Humbug-Willow Creek Parkway within the community, which served to enhance wetlands, woodlands, and riparian habitat as well as preserve the many native animals and plant species residing in the community. The new Parkway also consists of five miles of trails which serve walkers, runners, cyclists, and bird watchers. This terrific trail system provides an important link between the elementary school, community parks, and other amenities that the residents frequent.
AMERICAN TRAILS
American Trails, the only national, nonprofit organization working on behalf of all trail interests, is pursuing a national infrastructure of trails and greenways that serves a full range of activities. Through education, partnerships, and timely information resources, American Trails promotes the creation, conservation and broad enjoyment of quality trails and greenways that offer places of solace, health, fitness, recreation and transportation for all Americans. The organization supports local, regional, and long-distance trails and greenways, whether in backcountry, rural, or urban areas.
American Trails is the only national nonprofit organization working on behalf of all trail types. For more information visit: http://www.AmericanTrails.org.