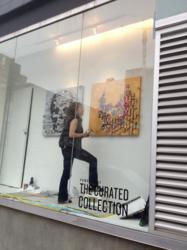 "Art is the sole exception, where destroying a book actually creates a new vision", P. Farameh
New York, NY (PRWEB) April 11, 2013
Galiana's performance was not only a spectacle that allowed guests a more interactive experience than the typical gallery opening, it was also a comment on the role of the contemporary art book as a medium for art in itself.
Farameh is a New York City-based publisher of limited edition books that defy standard definition, existing at the intriguing crossroads of design and art. As Galiana recycled the book into a work of art, a versatile crowd mingled over a specially curated collection of new and emerging artists, and browsed through The Curated Collection's titles, both published and upcoming. The show itself was named fittingly VICTORIOUS, the title of a Fall 2013 publication of the same name, VICTORIOUS: Modern Mythic Heroes, which presents a select group of contemporary artists whose work deals with today's modern mythological heroes, the celebrities and superheroes.
The curators, gallerist Kevin Havelton and senior director of menswear at Ports 1961, Klaus-Peter Saltzmann, invited artists such as Alejandro Diaz-Ayala, Jeremy Dean, Jeff Depner, Pauline Galiana, Hiroyuki Hamada, Karim Hamid, William P. Immer, Michael Mapes, Claire Shegog, and Yi-Hsin Tzeng to exhibit their newest work amid the colorful stacks of priceless hard covers.
Victorious is the first happening of its kind co-hosted by Patrice Farameh, the publisher of The Curated Collection. Blending art, fashion and design, Farameh's events invite guests to partake in an atmosphere both familiar and experimental. Spearheaded by founder Patrice Farameh, an expert in luxury and lifestyle book production, The Curated Collection conceives, designs, produces and publishes books with a team of imaginative and forward-thinking talent that can translate any lifestyle concept or brand into a wide range of mediums.
Aureus Contemporary Gallery is comprised of a small group of collectors, art dealers and curators located in various cities around the globe. Since its inception in 2005, the common goal has been to seek new and emerging talent with an emphasis on craftsmanship and original ideas. Through a group consensus a select group of artists are actively chosen and their work encouraged through various means.