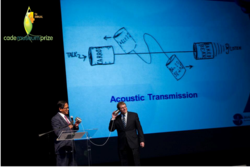 Gainesville, FL (PRWEB) April 09, 2013
Four Florida companies have advanced to the final round of the 2013 Cade Museum Prize Competition. The winner will receive a $50,000 prize, an incentive for inventors and entrepreneurs in Florida. The reward is named after Dr. J. Robert Cade, the University of Florida physician who led a determined team to the invention of Gatorade.
The 2013 Final Four Inventions include the X-Finger, an advanced artificial finger prosthetic used by military veteran and children; a Pyrolizer that converts solid waste to energy using advanced thermal technology from Green Liquid and Gas Technologies; a next generation S-QLED display panel that costs 75 percent less and uses 50 percent less power from NanoPhotonica; and Partender, a B2B mobile software as a service (SaaS) solution that quickly calculates the volume of liquids in bottles to accurately and rapidly calculate inventory.
The final four will make live pitches and presentations to a new panel of judges, and the Cade Museum Prize Winner will be announced May 9 at a Gala event at Santa Fe Fine Arts Hall in Gainesville, Fla. Prize Night tickets are on sale at http://www.cademuseumprize.org.
The 2013 Cade Museum Prize Final Four (listed alphabetically by invention name.) Company links are provided if available:
Partender: Gainesville, FL
Pyrolizer: Gainesville, FL
S-QLED Panel Display: Orlando, FL
X-Finger: Naples, FL