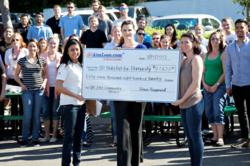 San Diego, CA (PRWEB) April 11, 2013
At a quarterly staff meeting in March, the Associates of AimLoan presented a donation of $57,820 to Ellen Immergut, Communications Director of SDHFH. SDHFH works in partnership with families to strengthen communities and transform lives by building new homes, rehabilitating existing homes, and making affordable homeownership a reality for people in need in our community.
Habitat homes are built with donations of money, materials and labor. To date, SDHFH has built 149 homes throughout San Diego County, with over 130 more on the drawing boards.
The AimLoan tradition of giving dates back to 2001 when AimLoan launched its first website campaign in response to 9/11 and raised $30,000 for the American Red Cross. Since then, AimLoan Associates have selected four non-profits each year to support through its quarterly website campaigns. $20 for each loan funded is set aside and a check is presented to the charity at AimLoan's quarterly staff meeting.
About the President: Vince Kasperick is the Founder and CEO of AimLoan.com (http://www.aimloan.com), a nationwide online mortgage banker, headquartered in San Diego, California. Write to vince(at)aimloan(dot)com.
About AimLoan: Founded in 1998, AimLoan.com is the third largest online mortgage banker in America, offering purchase and refinance mortgages, including the HARP refinance program for "underwater" homeowners. Rates and closing costs may be viewed online, 24/7. Customers may apply and lock their rate online, 24/7. http://www.AimLoan.com.