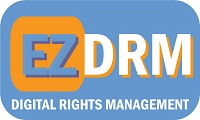 Yonkers, NY (PRWEB) April 10, 2013
EZDRM Inc., a global leader in DRM technology delivery, today announced the availability of their hosted Microsoft PlayReady DRM solution in the WindowsAzure.com Marketplace. The EZDRM add-on to Windows Azure Media Services provides customers with a the full feature set of Microsoft PlayReady DRM technology, thus giving customers the ability add DRM encryption and dynamically set DRM rules that are tied to their business.
The EZDRM Inc, Windows Azure Media Services component supports the on-demand encryption of Microsoft Corp.'s Smooth Streaming formats (ISMV, ISMA) utilizing the native codecs, as well as the popular H.264 and AAC codecs. These file-level encryption technologies are approved by all major studios and supported on PC and Mac computers, Microsoft XBOX, connected TV's, Sony Blu-Ray players, iOS and Android devices.
The EZDRM offering is built to complement the Microsoft's Windows Azure Media Services platform by allowing digital content providers using the Windows Azure services to select any media assets to be processed for protection in the cloud. Once the content is processed, the EZDRM system ties into the client's business logic and dynamically sets DRM licensing rules per each request. Additionally, the Windows Azure Media Services API structure allows software vendors to build complete end-to-end solutions, utilizing the EZDRM AMS DRM packaging as part of their work flow.
"In developing Windows Azure Media Services, Microsoft has created a feature-rich hosting platform to accelerate digital media into the future," said David Eisenbacher, CEO and Co-Founder, EZDRM Inc. "With our AMS addition, EZDRM will offer content access and control services streamlined into the Windows Azure workflow. This synergy delivers a robust and easy to use solution for the future of the entertainment industry."
"Windows Azure Media Services gives customers a highly scalable and reliable platform of ready-to-use services for cloud-based media workflows," said Sudheer Sirivara, director, Windows Azure Media Services, Microsoft. "We are excited that Microsoft's cloud platform enables EZDRM to deliver DRM services in the cloud."
About EZDRM
EZDRM is a leader in providing hosted Digital Rights Management (DRM) solutions, enabling content owners and Internet-based media distributors an efficient, cost-effective and superior method of content control. EZDRM solutions are ideal for live, video-on-demand, downloadable offline playback, e-learning and Web-based video offerings. EZDRM customers are able to expand their viewership and create new revenue streams from their content assets. For more information visit http://www.EZDRM.com.