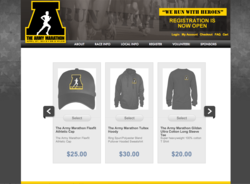 Chicago, IL (PRWEB) April 16, 2013
Izo Brands and Customizo are proud to announce the launch of The Army Marathon C-Store. The C-Store sells The Army Marathon branded apparel to assist in raising funds for and awareness of the challenges faced by our returning veterans.
C-Store revenues contribute to The Army Marathon's fundraising goals providing for veteran's services where additional resources are needed. Additionally, the race highlights the sacrifices of our service members at home, in local communities, and abroad. The Army Marathon, run annually in Killeen, Texas, is a nonprofit and contributes to multiple charities at the direction of The Army Marathon Advisory Council such as The Military Child Education Coalition, America's Fund, TAPS, and Wish for OUR HEROES.
Products sold through the C-Store include Tultex hoodies and fine jersey t-shirts, performance shirts, Flexfit Caps, and long sleeve tees embellished with The Army Marathon's logo. Sporting The Army Marathon logo'd gear is a fashionable and highly visible way to promote the cause. Custom apparel ties well into the organization's mission of elevating veteran's issues in the public's consciousness, and the online marketplace provides an excellent way to meet this objective by making the branded goods available outside The Army Marathon's immediate locality.
The Army Marathon C-Store is not the first charitable C-Store, nor will it be the last for Izo. Currently, Education at Work, Bright Pink, Half the Sky, Shriner's Hospitals for Children, Hanes4Education, Run Your Life, and Lowline also sell branded apparel using the Izo platform. As part of the Izo advantage program, C-Stores assist charities and other nonprofits with fundraising and promoting through these free, fully managed stores, increasing revenues through custom apparel sales while taking the onus of inventory management and fulfillment away from the organizations, as to free up resources to run the organizations themselves.
About Customizo and Izo Brands: With Customizo, Groupizo and Snapizo, Izo is knitting the framework for the future of e-commerce with a multi-faceted set of innovative product customization and design tools, a unique group collaboration interface, and mobile media distribution applications. Izo's mission is to be the most customer-centric, creative, and innovative company in the custom apparel and promotional products industries.