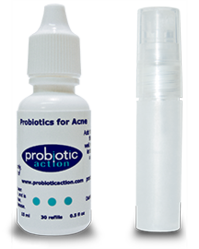 Probiotic Action is a water-soluble solution that will evaporate after a few secons
Miami, FL (PRWEB) April 15, 2013
Probiotic Action announced this week that aside from maintaining the bacteria balance on the skin and pores, their acne treatment may also have the ability to reduce swelling and redness associated with breakouts*.
Fernando Perez, a Spokesman from Probiotic Action suggests, "Similar to ingested probiotics, the team at Probiotic Action have seen excellent results in the reduction of swelling and irritation on the skin when using a topical probiotic as an adult acne treatment. For many years, probiotics, when ingested have been known to reduce swelling in the intestinal tract by combating the bad bacteria that infiltrate the immune system. We are now finding that using probiotics externally to combat bacteria in pores may be the best acne treatment."
Although the FDA has not approved many of the health benefits associated with the use of probiotics, years of research by many independent parties and Universities have shown scientific evidence that the use of probiotics is related to reduced swelling and irritation in certain body systems*.
Probiotic Action's acne treatment helps reduce redness and swelling* by applying a probiotic spore-borne solution to water, and spraying it directly on the skin. When sprayed on the skin, the good bacteria spores attach themselves to the bad bacteria lurking in pores, known as P. acnes. Once on the skin they continue to fight the growth of acne causing bacteria, and prevent dirt and oil build up- resulting in reduced breakouts, swelling, and redness on the skin.
Probiotic Action is an advanced acne treatment that uses Probiotics for acne containing the "good bacteria" that is naturally found on healthy human skin. By using probiotics, Probiotic Action is an effective treatment that restores the normal bacteria content on skin. Probiotic Action will successfully clear skin when used as an adult acne treatment while protecting skin against bad bacteria, free radicals, and pollutants.
*These statements have not been evaluated by the Food and Drug Administration. Probiotic Action is not intended to diagnose, treat, cure or prevent any disease.
#####