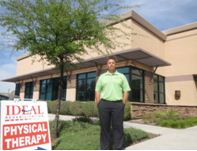 "I enjoy working with individuals with sport injuries and individuals who have undergone surgery. I am excited to bring the Ideal concept of physical therapy to the North Mesa area."
Mesa, Arizona (PRWEB) April 16, 2013
Mesa, AZ- Ideal Physical Therapy adds on to their many convenient clinics around the Valley with the official opening of their new North Mesa Clinic.
Ideal's new North Mesa clinic is located at 4360 E. Brown Rd. Ste 111 Mesa, AZ 85205, on the northwest corner of Brown and Greenfield.
The North Mesa Clinic is headed by Partner Physical Therapist Anthony Lelo, PT, DPT.
Mr. Lelo is a Doctor of Physical Therapy and a Certified Athletic Trainer. He completed his athletic training internship with the Seattle Seahawks and receiving his athletic training degree and doctorate in physical therapy from the Eastern Washington University. Shortly after, he moved his family from the state of Washington to Arizona where he has worked in the outpatient physical therapy setting for over seven years
.
A sports enthusiast himself, Mr. Lelo states, "I enjoy working with individuals with sport injuries and individuals who have undergone surgery. I am excited to bring the Ideal concept of physical therapy to the North Mesa area."
The specialties of the North Mesa clinic include manual therapy, physical therapy, sports therapy, spine manual therapy, high velocity low thrust manipulation, workers compensation injuries, spinal decompression and traction, general orthopedics, vertigo and post operative rehabilitation.
This new clinic joins Ideal Physical Therapy in working towards the common goal of providing quality care with Ideal results. They are now accepting new patients. To schedule an appointment call 480.222.0655 or fax prescriptions to 480.222.1457.
Ideal Physical Therapy is a group of private practice outpatient physical therapy clinics specializing in physical therapy and hand therapy. Since 2005, they have grown to 17 locations throughout the metro Phoenix and Tucson areas. Each clinic is comprised of professional physical therapists and dedicated staff working towards Ideal's common goal of improving patients' quality of life. Ideal takes pride in their ability to spend more quality time with patients by utilizing the latest paperless technologies to make processes easier for patients and physicians.
For more information about Ideal Physical Therapy, or to schedule an appointment, visit their website at http://www.idealphysicaltherapy.com.
###