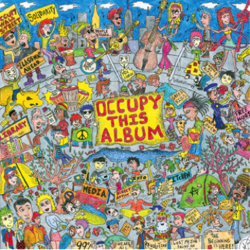 "If Everyone Gets Together, And Vocalizes That We Will No Longer Accept Corporate Rule Of Our Government, We Will See That Change. We Hope To Inspire People To Do Just That By Putting Your Voice Back To Music - Jason Samel - Executive Producer
Jericho, NY (PRWEB) April 10, 2013
Occupy This Album: A compilation of music by, for and inspired by the Occupy Wall Street movement and the 99% was
NOMINATED FOR "BEST COMPILATION ALBUM" By Independent Music Awards
Album Features Fan Favorite and Never Before Released Tracks From Ani DiFranco, Willie Nelson, Yoko Ono, Mogwai , Warren Haynes, Joan Baez, Steve Earle, James McMurtry, Lucinda Williams, Tom Chapin, Immortal Technique, Our Lady Peace, Thievery Corporation, Toots and The Maytals, Tom Morello, Third Eye Blind, David Crosby & Graham Nash, Jackson Browne , Yo La Tengo, Rain Phoenix, Patti Smith, Anti Flag, Garland Jeffreys, Amanda Palmer, Dar Williams, The Mammals Featuring Pete Seeger, David Amram, Arlo Guthrie and Family, Matt Pless, Fear Nuttin Band, Filmmaker Michael Moore, and More.
Music For Occupy of Long Island, NY debut release "Occupy This Album" join more than 300 exceptional self-released and independent label releases, artists, as well as former major label acts named by Music Resource Group (MRG) as Nominees in The 12th Independent Music Awards (The IMAs), the influential awards program for independent bands and fans.
For more information visit:
http://www.MusicForOccupy.org
http://www.facebook.com/musicforoccupy
View "Occupy This Album"
Click here for digital release Of 99 Tracks http://musicforoccupy.org/2012/11/buy-occupy-this-album/
Click here for 4 disc physical release http://merchnow.com/products/141477
"Occupy This Album" is nominated among an eclectic mix of established artists and artists on the rise including Ben Kweller, Band Of Skulls, Bright Eyes, Langhorne Slim & The Law, Omar Sosa, Killer Mike, Paper Lions, Sarah Cheng-De Winne and The Congregation, among many other deserving artists whose recordings were released during the 12th IMA program eligibility period.
Occupy This Album Embeddable Digital Sampler Available Here Now
Representing the broad spectrum of today's global independent music scene, the nominees in over 80 Album, Song, Music Video and Design categories were culled from thousands of submissions from North America, South America, Asia, Africa, Australia, Greenland and Europe.
Winners will be determined by a panel of influential artist and industry judges including Tom Waits and Kathleen Brennan, Ziggy Marley, Suzanne Vega, Meshell Ndegeocello, Del McCoury, Pete Wentz, Shelby Lynne, G. Love, Jim Lauderdale, McCoy Tyner, Brandi Carlile, John Medeski & Chris Wood (Medeski, Martin & Wood), Judy Collins, Raul Midon, Andrea Marcovicci, "Weird Al" Yankovic, Bernie Worrell, Jeremy Taggart, Toots Hibbert, Dennis Diken, Joel Madden, Arturo Sandoval, Jonatha Brooke, Alan Light (Live From The Artists Den), Terry McBride (Nettwerk Music Group), Kevin Lyman (Vans Warped Tour), Jason Olaine (Jazz at Lincoln Center), Anthony DeCurtis (Rolling Stone), Dan Storper (Putumayo World Music, Bob Ludwig (Gateway Mastering), Bruce Iglauer (Alligator Records) and others. The results will be announced in May, 2013.
In addition to industry-determined winners, music fans from around the world have until
Friday, July 19, 2013 to cast their votes at
The IMA Vox Pop Jukebox
(http://www.independentmusicawards.com/imanominee/12th/Album/Compilation-Album) to determine the fan-selected program winners.
The Independent Music Award winners will be promoted to nearly 1 billion music fans worldwide.
Details and complete list of nominees and judges available at TheIndependentMusicAwards.com
Artistry Has Its Awards
Celebrating the democracy of creativity and meritocracy of talent, The Independent Music Awards honor exceptional independent artists traditionally ignored by mainstream media and big box retailers.
For the past 12 years, artists and labels from around the world have found new fans and prominence through The IMAs. Produced by Music Resource Group, publisher of the popular industry networking database The Musician's AtlasOnline, The IMAs uses its unrivaled access to performance, promotion & distribution opportunities to connect winners and nominees to new audiences and revenue opportunities.
Winners of The 12th IMAs will receive active promotions, distribution and performance opportunities that will place them in front of nearly 1 billion music fans. Artists, managers and labels credit The IMAs with increasing recognition among music fans and industry gatekeepers.