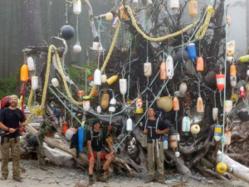 "ROP wilderness therapy programs encourages exceptional changes in a relatively short time. Their wilderness therapy programs for troubled youth address the whole child and have been shown to improve behavior one year after attending wilderness therapy.
Seattle, WA (PRWEB) April 11, 2013
Pioneers in the field of wilderness therapy for troubled youth has taken on a whole new dimension here at Rites of Passage NW. In addition to providing an exceptional therapeutic wilderness program for troubled youth and young adults in the diverse wilderness setting of the Olympic National Parks, Rites of Passage also runs a giving back program to sustain and preserve the beauty of the natural world for the children of tomorrow.
Did you know the Olympic National Park protects 73 miles of wild Pacific coast? Tidepools, sandy beaches and rocky cliffs can all be found here. Rites of Passage NW camps for Troubled Youth located near Seattle, WA gives back to the community this March 2013 marking the second anniversary of the massive earthquake and tsunami that pummeled Japan, killing more than 20,000 people. Here in the Pacific Northwest, ROP continues in their efforts to clean up the Washington coast and preserve the natural beauty of our coastlines. Such cleanup efforts makes for a challenging and rewarding experience for all involved, and has been found to be healing for kids going through a wilderness therapy program simultaneously.
For more information on what a wilderness therapy program is and can do for troubled teens WATCH THIS INFORMATIONAL VIDEO - What is Wilderness Therapy?
Nature can be such a catalyst for change when combined with Cognitive Behavioral Therapy (CBT). Wilderness therapy programs that use CBT have gained a lot of momentum because its effectiveness is high among adolescents and young adults in treatment. CBT assists in correcting a number of personal issues and does it faster than most of the other techniques available for the correction of maladaptive behavior problems. Some of the problems that the therapy focuses on correcting are depression, anxiety, phobias, stress, addictions, OCD (obsessive compulsive disorder), bipolar disorder, fatigue, oppositional defiant disorder (ODD), anger management issues, low self esteem, eating disorders, substance and alcohol abuse, sleep problems, post traumatic stress disorder and several others. It is often asked how effective is CBT in correcting all these problems and the answer is that it is very effective. CBT when conducted in the wilderness setting has been proven to bring about results even faster than the same therapy when conducted in a traditional clinical setting. This is the miracle of wilderness therapy.
Rites of Passage NW outdoor therapeutic program for troubled youth encourages self-reliance and self-respect in each troubled teen. The wilderness therapy program goals are to develop, direct and re-focus behavior patterns in a positive way. Wilderness therapy for troubled youth removes urban distractions and simplifies options to help students gain insight into their core values and accept responsibility for their choices. As a result, students begin to accept responsibility for personal decisions, address individual and family issues and become invested in their own personal growth. One dimension of this process is through participating in cleanup and preservation efforts.
Rites of Passage NW runs a multi-layered wilderness therapy program that incorporates a variety of therapies. These include: Dialectical Behavior Therapy (DBT), Expressive Arts Therapy, CBT, Mindfulness Meditation, Life Coaching, individual, group and family therapy and the 12-step Model.The wilderness is at the center of all therapy and teaching the core values of sustainability and resources. In a new wilderness environment great changes are possible. Wilderness therapy programs for troubled youth encourages exceptional changes in struggling teens towards healthier behaviors and decision making. Rites of Passage NW wilderness therapy program gives students the opportunity to change their lives and give back through their Mentorship program and by being a Stuart of our natural world and their peers. Wilderness therapy helps troubled youth by combining adventure based therapy with trained professionals with wilderness expeditions for the purpose of therapeutic intervention.
The aim of Rites of Passage is guiding participants toward self-reliance and self-respect. Many teens in wilderness therapy programs report the experience as being positive, beneficial, and enjoyable. Students learn independence, patience, assertiveness, self-reliance, and maturity. Camps for troubled youth encourage exceptional changes in a relatively short time. Wilderness therapy programs for troubled youth address the whole child and have been shown to improve behavior one year after attending wilderness therapy.
By using the wilderness as the core therapeutic tool, Rites of Passage staff are able to step back from the traditional position of authority and allow the wilderness to stimulate each child's wilderness therapy program. This technique has been used all over the world allowing individuals time on their own to reflect on their lives, gain insight and inspiration. Troubled youth programs like ROP wilderness therapy, have at their foundation the use of the wilderness setting as metaphorical insight – especially to represent the family – using an educational component with a sophisticated curriculum that teaches communication skills and traditional educational and psychological lessons.