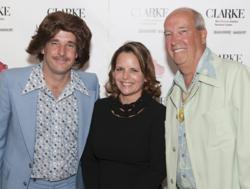 More than 1600 designers from around the world entered this prestigious kitchen design contest.
Milford, MA (PRWEB) April 11, 2013
More than 300 New England architects and designers celebrated Studio 54-style at Clarke, New England's Official Sub-Zero and Wolf Showroom and Test Kitchen, as the regional winners of Sub-Zero and Wolf's Kitchen Design Contest were announced on April 4th.
The kitchen design winners, who were celebrated as part of Clarke's Sixth Annual Designer Appreciation Night, are:

"More than 1660 designers from around the world entered this prestigious contest. These three New England projects were chosen from 134 regional entries and will go onto the final awards at Sub-Zero and Wolf's headquarters in Madison, Wisconsin in May," said Clarke Business Development Manager Joe Tanguay, the master of ceremonies for the evening. "And our CEO Tom Clarke has announced that if one of our New England designers wins a national award, he will match the Sub-Zero winnings with an additional $40,000 going to that designer."
Tom Clarke announced to the design community that Sub-Zero/Wolf has mounted the most aggressive new product roll-out ever in the appliance industry in 2013. "Every model of integrated refrigeration in Sub-Zero's line has been redesigned," he said. "You'll find more sizes, more features, better food preservation than ever before. And, Wolf's cooking line has been updated with three new design options that will knock your socks off. Wall ovens and cooktops now offer distinct looks for use in a traditional, contemporary or transitional design. This is going to be a very exciting year for kitchen design in New England."
In addition to announcing the Sub-Zero and Wolf Kitchen Design Awards, kudos went to the top three specifiers of Clarke's products over the past year:

Cameron Snyder of Roomscapes Design Center in Rockland, MA
Nina Albamonti of Domestic Kitchens in Fairfield, CT
Richard Kane of Kitchen Interiors in Natick, MA.
Clarke General Manager Sean Clarke told the audience, "So many great things have happened since we last were together in this amphitheater. Our completed solar roof project means we are now Net Zero and over the past year we have been able to prevent more than 958,000 pounds of CO2 emissions from going into the atmosphere.
"We are going into the 11th season of shooting Chef Ming Tsai's PBS television show, Simply Ming, here in this showroom," he continued, "and next week we are honored to have Chef Lidia Bastianich shooting her show, Lidia's Italy, in our South Norwalk test kitchen for the first time."
The announcement of the night that was met with the largest cheers by the design community was Sean Clarke's, "Boston here we come! In 2014, Clarke will have an official Sub-Zero and Wolf showroom and test kitchen in downtown Boston." This puts the award-winning distributor closer to a majority of the region's architects and designers, making it more convenient for them to refer clients to the showroom and test kitchen for appliance research and product demonstrations.
Clarke's Sixth Designer Appreciation Night was disco-themed with jaw-dropping entertainment from impersonators of Elton John, Cher and John Travolta, who were singing, dancing, mingling with the crowd and posing for photos throughout the evening. Once the presentations and awards ceremony were complete, Clarke's amphitheater was transformed into Studio 54, complete with mirrored ball, lighted dance floor and Travolta leading the crowd in 1970's line dances including the hustle and bus stop.
"So much work goes into this annual event," said Tanguay, "but it is our favorite night of the year. Each year it gets better and the design community really gets into the spirit of it. We've already started working on the theme for next year."
For more information and photos of the event, visit Clarke's Facebook page at http://www.facebook.com/ClarkeApplianceShowrooms. For more information on designer initiatives, visit clarkecorp.com or call Joe Tanguay at 800-842-5275.
About Clarke
Clarke is New England's Official Sub-Zero and Wolf Showroom and Test Kitchen, with locations in Milford, MA and South Norwalk, CT. These are the only locations in New England where homeowners can see every model manufactured by Sub-Zero and Wolf, as well as a wide variety of product from other quality brands including ASKO, Best, KWC and Dawn. Clarke sells its brands through a network of authorized retail dealers in all six New England states. Clarke also offers Clarke Customer Care, a dedicated Sub-Zero and Wolf repair service that has earned them top customer satisfaction ratings in the U.S. They also offer cooking classes and events from Clarke corporate chefs and local celebrity chefs at The Clarke Culinary Center inside their showrooms and showcase the finest cookware, bake ware, stemware, cooking tools and linens in their Savoir Fare showroom boutiques and online store at http://www.savoirfare.com. For more information, visit http://www.clarkecorp.com.