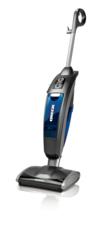 VersaVac™ delivers the 2-in-1 convenience of a bagless vacuum & a steam mop — both fully powered — for a hassle-free, multi-surface cleaning experience like no other product!
Chris Paterson
Oreck Global Director, Product Innovation & Design
Nashville, Tenn. (PRWEB) April 11, 2013
Oreck Corporation, a longtime leader in the homecare industry, announces that one of its newest breakthrough cleaning products, The VersaVac™, has won the Innovation Award at the 2013 Housewares show.
"The IHA Innovation Awards recognizes creatively designed products being introduced at the International Home + Housewares Show. For 2013 the judges chose to recognize the Oreck VersaVac Full Size Bagless Vacuum & Steam Mop as the most outstanding new offering in the category of Floor + Carpet Care. Our congratulations to Oreck on being recognized for their work in bringing this new product to market," says Perry Reynolds, VP Marketing + Trade Development for the International Housewares Association.
The Oreck VersaVac™ is a 2-in-1 cleaning system consisting of a bagless upright vacuum cleaner that is also a steam mop. Both functions — vacuuming and steaming — feature the full power, durability and ease-of-use for which Oreck products are known. The multi-functional VersaVac™ is designed to save consumers cleaning time and can eliminate the need for multiple cleaning tools.
"We were excited to showcase VersaVac™ at the Housewares Show and how it delivers the 2-in-1convenience of a bagless upright vacuum and a steam mop — both fully powered — for a hassle-free, multi-surface cleaning experience like no other product!" says Chris Paterson, Oreck's global director of product innovation and design.
VersaVac™ is a full-powered bagless vacuum cleaner, plus a steam mop in one, effectively a 2-in-1 cleaning system that functions on both carpeting and bare floors. With an on/off brushroll, users can quickly transition from one flooring type to another—all without going back to the broom closet. The 1400 watt steam mop has adjustable steam levels for any sealed floor need*. Both the bagless, easy-dump canister and water tank can be removed and re-inserted with just a "click" of a button.
The versatile VersaVac™ can eliminate the need for the multiple floor care products (brooms, dustpans, buckets and mops) that are usually required to maintain most bare floors. Changing from vacuuming to the steaming/sanitizing** function is quick and easy; simply snap on the steam tray and washable pad, add water to the removable water canister and turn on the steam dial to the desired setting. VersaVac™ features a 30 foot cord for a cleaning range that extends to multiple rooms.
For more information about VersaVac™ visit http://www.oreck.com/Oreck-VersaVac.
About Oreck
A manufacturing leader in the homecare industry since 1963, Oreck is known for incredibly lightweight yet powerful vacuums that are reliable, durable and above all, easy to use. As the company celebrates its 50th anniversary, it continues to revolutionize and simplify how we clean our homes. Oreck offers a wide range of bagless and bagged vacuums cleaners, air purifiers, steam mops and cleaning products at many major retailers and in every Oreck Clean Home Center. The Nashville, Tennessee-based company distributes products in the U.S. and through distributors in Canada and parts of Europe. For more information, please visit http://www.oreck.com.
*Not for use on fine silks, velour, very thin plastics, unsealed hardwood, laminates, engineered hard floor surfaces, ceilings, drywall and exterior paint of automobiles, electronics or items using electricity.
**To sanitize hard floor surfaces, focus steam while mopping for at least 15 seconds. Results based on lab testing under controlled condition. Results vary based on use of the VersaVac™ and the surface to be cleaned.