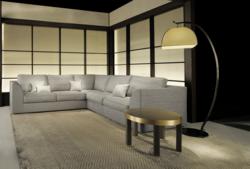 Miami, FL (PRWEB) April 10, 2013
Giorgio Armani Group will soon celebrate the first anniversary of its elegant Armani/ Casa home store in the Miami Design District. Since opening in April 2012 as the third Armani/ Casa location in the United States, the Miami store has become a keystone of Miami's dynamic design community.
Armani/ Casa offers a wide spectrum of home collections carefully selected for their compatibility in terms of shape, material and color, and all displayed within a bright but softly lit environment. The store's underlying concept is to create a distinctive atmosphere through a combination of products that range from furniture and furnishings to accessories, décor and fabrics for both day and night zones.
The multi-faceted store includes furniture, tableware, decorative accessories, fabrics, ornaments, lighting, as well as original ideas for the bathroom and the kitchen. In addition, Armani/ Casa offers an exclusive interior design service providing "made to measure" solutions for private clients and property developers.
Throughout the 1,200-square-foot Armani/ Casa Miami store, located at 10 NE 39th Street, a series of panels subdivide the displays and surround the perimeter. There are two slim, glossy, metal structures that feature two panels in bronze-colored honeycomb polycarbonate on each side. The display system for accessories consists of clear glass shelves supported by poles, finished in glossy black lacquer while vinyl tatami serves as the flooring.
Armani/Casa, the home furnishings collection by Giorgio Armani, was launched in the year 2000 and the Miami showroom is the third to open in the U.S. Giorgio Armani's objective was to bring his philosophy of style to the world of home interiors, and in so doing create the complete concept of an Armani lifestyle.
For more information, call 305.573.4331 or visit http://www.armanicasa.com
Copyright/Disclaimer © Copyright 2013, AMGW Agency & AMGWPRworks. All rights reserved. All materials, content and details contained on this press release are the intellectual property of AMGW Agency, AMGWPRworks & its clients. The materials, content and details may ONLY be copied, reproduced, distributed or displayed by the authorized editorial entities it has been sent too. If you have received this press release in error and or have any questions email info(at)amgwagency(dot)com or call 786-522-1777."