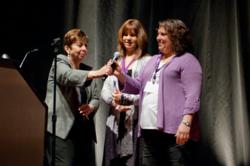 ...we have the same philosophy of care for our patients and staff, I believe that really comes forward in our work.
Philadelphia, PA (PRWEB) April 10, 2013
Alison Hoffmann, Au.D. and Amy Sapodin, Au.D., co-owners of Advanced Hearing Center, were honored with the Leadership Award at the 18th annual American Hearing Aid Associates (AHAA) Convention in Las Vegas this past February.
They received the award for succeeding in improving their performance and leadership skills and moving their practice forward. They believe in and strictly follow AHAA's 'All The Right Things' best practices approach and it has benefitted them greatly.
Dr. Sapodin and Dr. Hoffmann have been serving the hearing impaired in Nassau and Queens, New York for over twenty years, and have been AHAA Associates since 2002. "Dr. Sapodin and I work extremely well together – we have the same philosophy of care for our patients and staff," said Dr. Hoffmann. "I believe that really comes forward in our work."
"Alison and Amy have lead their three Advanced Hearing Center locations to great success," stated Tina Soika, AHAA President, "They continue to sharpen their skills by regularly attending AHAA meetings seeking feedback from their peers...but these days, they're giving as much advice as they're getting."
American Hearing Aid Associates (AHAA) proudly recognized their Associates' 2012 accomplishments with five honors for outstanding business performance. Advanced Hearing Center's leaders, as well as several other winners, were interviewed during the Convention to share details on their personal approaches in establishing and maintaining a successful practice, and how they have achieved their levels of success. Those videos can be seen on AHAAconvention.com, AHAA's Convention website.
About Advanced Hearing Center
Advanced Hearing Center's experienced and caring professionals are dedicated to helping their patients hear well. They work from a modern New York audiologist office with an old-fashioned commitment to quality care and personalized service. Learn more by visiting them online at: http://www.audiologistny.com.
About American Hearing Aid Associates (AHAA)
AHAA represents the nation's highest quality and most accessible hearing health care network comprised of professional audiologists, hearing aid dispensers, otolaryngologists, hospitals, and universities across the country. AHAA aims to raise the quality of hearing health care throughout America by continual evaluation and upgrading of the educational standards and technical expertise of our hearing Associates.
Learn more about AHAA at http://www.AHAAnet.com.