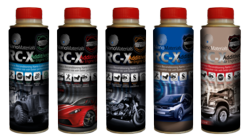 "I am proud to offer my Italian clients cost-reducing lubricants with enhanced properties and efficiency."
Yavne, Israel (PRWEB) April 15, 2013
NanoMaterials Ltd., nano solid-based lubricants company, today announced a commercial partnership with NanoProfix® of Italy for its anti-friction (AF)/anti-wear (AW) NanoLub® lubricants. These new generation, inorganic lubricant additives will promote NanoMaterials' award-winning technology across the Italian market. Based on patented technology developed at Weizmann Institute of Science, NanoMaterials produces pioneering multi-layered fullerene-shaped inorganic WS2 nanoparticles.
NanoMaterials' NanoLub® series is the first successful commercial implementation of inorganic, multi-layered fullerene-shaped technology in Extreme Pressure (EP) nano-lubricants. The additive series comes in three main forms of lubricant: oil-based, grease based and powder-based, depending on application. NanoLub® products have proven an outstanding capacity to improve engine performance and extend oil life under extreme conditions. The innovative nanoparticles also feature a unique continuous tribofilm release mechanism that helps repair wear damages by coating moving engine parts with lubricating layers.
Tests have shown that incorporating NanoMaterials' inorganic, lubricant additives into oil and grease formulations delivers a range of performance enhancements including:

Significant friction reduction
Reduced wear of contacting surfaces
Reconditioning of existing wear damage
Enhanced energy and fuel efficiency
Reduced operating temperature
These translate to significant cost and performance benefits such as lower energy consumption, extended effective operation of mechanisms, extended lubricant life, extended machinery life, and reduced emissions.
"According to industry figures, with an annual consumption of approximately 600,000 MT of lubricants, Italy is the fifth biggest lubricant market in Europe with impressive growth figures." says Baruch Halpert, Chairman and CEO of NanoMaterials: "After nine months of extensive testing of our fully commercial inorganic AF/AW nanotechnology-based additives, we are proud that NanoProfix saw great potential in our performance-enhancing, energy-saving lubricants. We are glad to start the commercial phase of this collaboration; this is our latest success in our plan to advance the global lubricant market."
We see great potential in NanoMaterials products." says Prof. Roberto Pagetti: "I came across this applied nanotechnology through the work of my colleague Prof. Reshef Tenne of the Weizmann Institute of Science, member of the Israel Academy of Sciences and Academia Europaea. I am proud to offer my Italian clients cost-reducing lubricants with enhanced properties and efficiency."
About NanoMaterials Ltd.
NanoMaterials Ltd. (Apnano), cleantech company, is a pioneer of inorganic, multi-layered fullerenes. NanoMaterials was the first to succeed in the commercial production of inorganic, multi-layered nanofullerenes and nanotubes, based on platform technology developed at the Weizmann Institute of Science. The company's WS2-based nanomaterials opened up new possibilities for developing extreme performance lubricants, coatings and polymer composites. These materials feature outstanding extreme temperature (ET) and extreme pressure (EP) properties. The composition and morphology of these materials create a unique mechanism of friction-induced tribofilm release. The exfoliated nanoparticles attach to working-surfaces, fill in wear crevices and coat working surfaces with a continuous super-lubrication layer. This "surface reconditioning" effect improves energy efficiency, extends effective operation, and extends machinery and lubricant life. NanoMaterials has earned international recognition and won numerous innovation and excellence awards, including winning the prestigious Red Herring Top 100 Innovators award. The company's NanoLub® family of EP lubrication applications (oils, greases, solids) is gaining increasing recognition and growing demand particularly in the automotive and heavy equipment industries; other industries they are involved in include defense, mining and metalworking.
For more information, visit: http://www.apnano.com
About NanoProfix®
NANOPROFIX® researches, develops and produces applied nanotechnology in industry; the brand belongs to the group SERFIND SPA Financial Holding.
Nanotechnology products are based on the effects of nanoparticles that bind at the molecular level to treated surfaces protecting them and making them highly efficient, keeping their beauty intact. Moreover, these products are designed to add special properties, such as: water repellency, bacterial protection, flame retardancy, thermal insulation, etc. Current research includes the investigation of complex lubrication problems both in hydrostatical and hydrodynamical conditions.
The NanoProfix management owes its know-how to decades of experience in diverse manufacturing sectors. The acquired skills, continuous experimentation and investment in research enable them to offer customers ad-hoc collaboration, aimed at identifying customized solutions to address the specific needs of each partner.
For more information, visit: http://www.nanoprofix.com