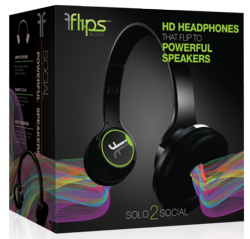 Flips™ earcups literally switch to powerful, amplified speakers for everyone around you to enjoy (social)
Wayne, NJ (PRWEB) April 11, 2013
In headphones, sound is king. Until now, that sound could only be appreciated by the headphone's user. Flips Audio™, announced today that it will unveil Flips™, the revolutionary new headphone that transforms headphones from a "solo" listening experience to a "social" listening experience, this weekend at the Secret Room Event in honor of the 2013 MTV Movie Awards style lounge.
Dramatically changing the headphone game, Flips earcup technology allows people to choose their listening mode. Luigi Tartara, Flips spokesperson explained, "When the earcups are against your ears, only you hear the sound (solo), but drop the headset around your neck and turn the earcups 180 degrees outward and Flips™ earcups literally switch to powerful, amplified speakers for everyone around you to enjoy (social)."
Cool and comfortable, the high-tech, no-expense-spared design and sound quality of Flips rivals pricier models, "but at a $120," said Tartara, adding, "Unveiling Flips at the Secret Room is a perfect fit."
Secret Room Events luxury celebrity gift suite will take place at The SLS Hotel, a luxury hotel in Beverly Hills, on Friday April 12th 2013.
Learn more at http://www.flipsaudio.com