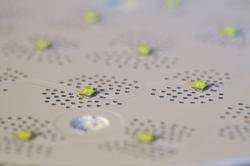 Gurnee, IL (PRWEB) April 23, 2013
Kenall Manufacturing, a leader in the commercial lighting industry, is proud to be an industry sponsor of Light Think University (LTU) sharing a vision to educate and build awareness of sustainable and energy-efficient LED lighting. LTU is a non-profit organization that recently launched an awareness-to-action campaign to enrich educational lighting experiences, while reducing lighting energy use in colleges and universities by 80 percent.
The LTU campaign unites interdisciplinary student teams with lighting industry leaders for experiential learning in integrated design practices using leading-edge, solid-state lighting and control technologies for a wide range of room environments.
"As an industry leader in the ongoing advancement of solid-state lighting technology, Kenall is thrilled about this opportunity to work with LTU and secondary education to inspire lighting innovation," said Jim Hawkins, Kenall president and CEO. "LTU's campaign aligns with Kenall's thought leadership in the design, development and production of LED lighting for commercial and institutional applications, as well as our commitment to the economic and sustainable benefits inherent to LED technology."
Kenall is actively engaged in expanding the depth of their LED product line for all the challenging environments they serve including high-abuse, correctional, healthcare, food processing, transportation, food processing and colleges and universities. All Kenall LED's are expertly designed and manufactured in the USA and are tested for certified performance, and not only meet but often exceed industry standards.
Kenall is also an active partner in the U.S. Department of Energy's Lighting Facts® program and regularly submits their LED products to Lighting Facts for testing. Kenall has recently been recognized for producing the most efficacious LED luminaire within a designated Lighting Facts category. Such recognition, combined with Kenall's sponsorship of LTU, exemplifies the company's commitment to producing best-in-class, sustainable, energy efficient LED luminaires.
For additional information on Kenall's LED products, visit us on the web at http://www.kenall.com, or contact us by phone at (847) 360-8200.
***
About Light Think University
Light Think University (LTU) is an independent lighting-focused nonprofit think-and-do tank. LTU activates the appreciation of light to redefine people's perception of the impact and value of light in their life through awareness, education and action programs. Working with industry, lifestyle partners and allied organizations, LTU is committed to teaching the next generation to see light differently, leading to lighting innovations that enrich people's experiences, shrinks the world's energy obesity and respects generational stewardship responsibilities. LTU maintains a commitment to transform the educational lighting experience on college campuses with 80 percent energy reductions, while setting the goal for a net-zero tomorrow. To learn more, visit http://www.lightthink.org.
About Kenall Manufacturing
Celebrating 50 years of lighting innovation, Kenall Lighting, located in Gurnee, IL, produces and supports high quality and durable lighting solutions for the most demanding environments. Since its inception in 1963, Kenall has been known for superior quality, exceptional value, and durable solutions, and it is proud to provide sealed lighting for containment or clean spaces, security lighting for detention facilities, and specialized healthcare and transportation applications. Kenall products are designed and manufactured in the USA and meet the guidelines established under the Buy American Act and the North American Free Trade Agreement. For additional information, visit http://www.kenall.com.
###