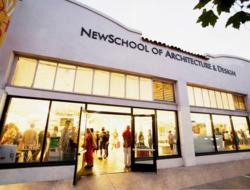 San Diego, Calif. (PRWEB) April 12, 2013
NewSchool of Architecture and Design(NSAD) has named Linda Sellheim, an educator with vast experience in creating game art and design curricula, as the new chair of its Digital Media Arts program, effective July 1, 2013. Sellheim will lead the development of NSAD's global digital design opportunities through its collaboration with the award-winning Media Design School (MDS) in Auckland, New Zealand, starting with an enhanced curriculum in interactive design and graphic design.
MDS is New Zealand's most-honored higher-education institute for its digital and creative technology qualifications and is recognized around the world for its outstanding digital arts programs, particularly in the areas of animation, interactive media, game development and design. Students in NSAD's Digital Media Arts program will have the chance to study in New Zealand and obtain a certificate through MDS, specializing in either graphic design or interactive design, beginning in the 2013–2014 academic year.
"We are thrilled to have Linda Sellheim join NewSchool as we develop exciting new programs for students interested in digital media arts," said NSAD President Steve Altman. "Her extensive knowledge of game art and design curricula and professional practice will be a huge asset to the campus community as we expand our offerings in global design education."
NSAD's Digital Media Arts program, which started in 2008, will benefit from Sellheim's leadership and the university's continued collaboration with MDS, whose students and faculty members have collected more than 250 awards over the past decade. NSAD is exploring additional new program possibilities in collaboration with MDS with the goal of helping students develop in-demand skills in specialties such as game art, game programming and animation.
Sellheim has broad experience in the digital arts industry as well as academia. She worked in Autodesk's Entertainment division as a curriculum development manager and later as an education product manager. Her academic experience includes serving as academic director at The Art Institute of California's San Diego and Orange County campuses. She has taught at the University of California, San Diego; California State University, Fullerton; University of California, Irvine; the Fashion Institute of Design & Manufacturing and the Academy of Art University. She earned an MFA in Visual Arts/Games and New Media from California State University, Fullerton, and a BFA in Illustration from the Art Center College of Design. She is a member of the International Game Developers Association, the Association for Computing Machinery and Women in Games International.
NSAD's Digital Media Arts program is currently offering scholarships for the 2013–2014 school year through the "Cut It Out" collage design competition.
About NewSchool of Architecture and Design
NewSchool of Architecture and Design (NSAD), founded in 1980, is located in San Diego, California. For the past two years, DesignIntelligence has ranked NSAD among the top 10 undergraduate architecture schools in the western United States in its publication "America's Best Architecture & Design Schools." NSAD is accredited by the Accrediting Council for Independent Colleges and Schools (ACICS), a national accrediting agency recognized by the U.S. Department of Education and the Council for Higher Education Accreditation. NSAD's Bachelor of Architecture, Master of Architecture and Executive Master of Architecture programs are accredited by the National Architectural Accrediting Board (NAAB). NSAD also offers a pre-professional Bachelor of Arts in Architecture, along with a Bachelor of Science in Digital Media Arts, a Bachelor of Science in Construction Management, a Master of Construction Management and a Master of Science in Architecture. The school's expanding global design education offerings include a new Bachelor of Interior Design program available in 2013–2014. For more information, visit http://www.NewSchoolArch.edu.