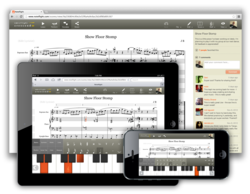 Music notation has always crossed national boundaries, so it's important that our site respects the diversity of our audience and the many languages they speak
Boston, Massachusetts (PRWEB) April 11, 2013
Noteflight, LLC (noteflight.com) today announced a new version of its web-based music notation editor that supports the German language. The new version will be made publicly available as Noteflight exhibits at the Musik Messe show in Frankfurt, Germany from April 10-14, 2013.
Noteflight will be exhibiting at Musik Messe to showcase the new HTML5 version of its notation software to an international audience. In January of this year, Noteflight launched an updated version of its web-based music notation editor in HTML5 to target a wide set of mobile devices including Apple's iPad and iPhone, along with Android tablets and smartphones.
As a web-based application, Noteflight has always had a global audience and is now internationalizing its software to provide translations for many different languages. The new translations are being made available in the new HTML5 editor and include translations of website text, musical terms and abbreviations, note names, menus, commands, and error messages.
"Music notation has always crossed national boundaries, so it's important that our site respects the diversity of our audience and the many languages they speak," said CEO Joe Berkovitz. "We're pleased to support the German language and we are looking adding many more languages in the near future to support our growing international community."
With over 650,000 users in more than 65 countries, Noteflight serves a global audience of users that create and share notated scores across geographical boundaries, time zones, and languages. Until now, Noteflight's user interface has been limited to English, requiring users to use web translation software to understand Noteflight's basic commands. Today, beginning with the German language, Noteflight will optimize the experience for users by translating the interface for a global audience.
###
About Noteflight
Founded in 2008 and headquartered in Boston, MA, Noteflight, LLC is dedicated to reinventing the way people create, share, and use written music. Noteflight allows users to edit, display, play back and share music notation in a web browser, on any device. Noteflight has an active online community of over 600,000 music enthusiasts and its site contains a corpus of musical scores to which anyone can publish their compositions. Noteflight serves music education instructors with its Noteflight Classroom product for K-12 and Noteflight Campus for Higher Education. Noteflight also licenses its technology to industry leaders to manage scalable cloud-based repositories of sheet music that can be delivered to any device with Noteflight Publishing Server. For more information, visit noteflight.com.
Noteflight Press Contact: press(at)noteflight(dot)com, (617) 466-9531