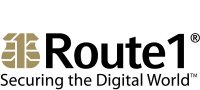 Toronto. Canada (PRWEB) April 11, 2013
Route1 Inc. (TSXV: ROI), a digital security and identity management company whose customers include the U.S. Department of Defense, the Department of Homeland Security, the Department of Energy and the Government of Canada, today announced its financial results for the year ended December 31, 2012.
Operating results for the 2012 year were positively affected by the proceeds of an arbitration award which was received in January 2012.
For the year ended December 31, 2012, total revenue increased to $9.1 million from $5.5 million in 2011. Gross profit also increased during the year to $7.5 million or 82% of revenue, versus gross profit of $4.5 million or 82% of revenue during the previous year. The improvement in gross profit is attributable to the arbitration award, a decrease in royalties paid on licenses, and increasing sales of higher margin services revenue. Route1's 2012 total comprehensive net income increased to $2.2 million from a loss of $1.9 million in 2011.
Earnings before interest, tax, depreciation, and amortization (EBITDA) during the year amounted to $2.9 million compared to an EBITDA loss of $1.2 million in 2011.
During the 2012 year Route1 generated cash flow from operations of $1.6 million. As at December 31, 2012, the Company had no bank debt and a cash balance of $754,509.
Paid, Active Subscribers
As at December 31, 2012, Route1 had 15,913 paying, active subscribers.
During the fourth quarter of 2012 Route1's revenue per subscriber was $259, an increase of $16 per subscriber or 6.6%, from the same period in 2011.
Investor Conference Call and Webcast
Route1 will hold a conference call today at 9:00 a.m. Eastern Standard Time (EST) to discuss its reported 2012 financial results, and provide an update on business and product development.
Participants should dial 1-888-430-8705 or 1-719-457-2628 at least ten (10) minutes prior to the conference time. The webcast will be presented live at http://public.viavid.com/index.php?id=104176. For those unable to attend the call, a replay will be available after 12:00 p.m. EST at 1-877-870-5176 or 1-858-384-5517 pass code 3811499 until midnight, April 25, 2013.
ABOUT ROUTE1, INC.
Route1 delivers industry-leading security and identity management technologies to corporations and government agencies who require universal, secure access to digital resources and sensitive data. These customers depend on The Power of MobiNET - Route1's universal identity management and service delivery platform. MobiNET provides identity assurance and individualized access to applications, data and networks. Headquartered in Toronto, Canada, Route1 is listed on the TSX Venture Exchange.
For more information, visit our website at: http://www.route1.com.
For More Information Contact:
Tony Busseri, CEO
+1 416 814-2635
tony.busseri(at)route1(dot)com
This news release, required by applicable Canadian laws, does not constitute an offer to sell or a solicitation of an offer to buy any of the securities in the United States. The securities have not been and will not be registered under the United States Securities Act of 1933, as amended (the "U.S. Securities Act") or any state securities laws and may not be offered or sold within the United States or to U.S. Persons unless registered under the U.S. Securities Act and applicable state securities laws or an exemption from such registration is available.
Neither the TSX Venture Exchange nor its Regulation Services Provider (as that term is defined in the policies of the TSX Venture Exchange) accepts responsibility for the adequacy or accuracy of this release.
© Route1 Inc., 2013. All rights reserved. Route1, the Route1 and shield design Logo, SECURING THE DIGITAL WORLD, Mobi, MobiSecure, MobiLINK, Route1 MobiKEY, Route1 MobiVDI, MobiKEY, MobiKEY IBAD, DEFIMNET, MobiNET, Route1 MobiNET, TruOFFICE, TruFLASH, TruOFFICE VDI, MobiKEY Fusion, MobiNET Aggregation Gateway, MobiNET Switching Array, MobiNET Secure Gateway, EnterpriseLIVE, EnterpriseLIVE Virtualization Orchestrator, MobiNET Agent, MobiKEY Classic and MobiKEY Classic 2, are either registered trademarks or trademarks of Route1 Inc. in the United States and or Canada. All other trademarks and trade names are the property of their respective owners. The DEFIMNET and MobiNET platforms, the MobiKEY, MobiKEY Classic, MobiKEY Classic 2 and MobiKEY Fusion devices, and MobiLINK are protected by U.S. Patents 7,814,216 and 7,739,726, Canadian Patent 2,578,053, and other patents pending.
Other product and company names mentioned herein may be trademarks of their respective companies.
# # #