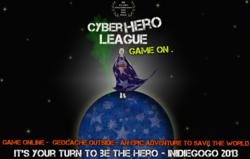 The cyberhero is the antithesis of the cyberbully. Rather than using digital technology to harm others, the cyberhero uses it to help other people, animals, and the environment.
New York, New York (PRWEB) April 11, 2013
Dr. Klisanin describes the game, "Cyberhero League," as "an interactive scout-like adventure designed to encourage the rise of cyberhero behavior in society." She explains, "The cyberhero is the antithesis of the cyberbully. Rather than using digital technology to harm others, the cyberhero uses it to help other people, animals, and the environment. The cyberhero has characteristics of heroes and superheroes. Like heroes, they take action to help people in the real world. Like superheroes, they have superpowers that arise from using the Internet, including: speed, bi-location, and shape-shifting."
The game uses the power of wireless technology to enable players to cross seamlessly between the real world and the game world. Instead of earning fake badges, players win the right to display the badges of real nonprofit organizations they've apprenticed with during game play. Game play results in the contribution of charitable items to the game's nonprofit partners. The Cyberhero League was a winner in the World Future Society's Beta-Launch Tech competition in 2012. Right now game play will be limited to beta-testers, but anyone who wants to put on a cape and save the world through gaming can get a spot by supporting the Cyberhero League's Indiegogo campaign. When the campaign is finished, they'll be given their passcodes to adventure.
Game play involves a ground-breaking combination of virtual and real-life elements, sending prospective cyberheroes on a multi-player online meta-adventure "Project Milky Way," that will ultimately include three novels, multiple online gaming worlds, global treasure hunts, local events, and apps that allow players to do things like track their everyday heroic actions in order to gain extra strength in the game world and vice-versa. Players will establish a permaculture garden, build an eco-friendly hideout, go on geocaching treasure hunts, and can visit museums, National Parks, and World Heritage Sites to gain extra in-game points. During game play, players' actions will generate real-world donations for partner nonprofits—food, water, shelter, animal habitat, etc.—by earning the badges of these organizations.
The game is being developed by Evolutionary Guidance Media R&D, Inc., in partnership with c3: Center for Conscious Creativity and The Millennium Project. In addition to Dr. Klisanin, the development team includes: Transmedia Producer, Kate McCallum; Creative Director, Melisca Klisanin; Jr. Creative and Lead Artist, Anastasia Kilani; IT specialist, Bridget Arrington, and Media strategist, Wendy Sue Noah. Combined, the team has 25 years experience in the entertainment industry working with industry giants including, Disney, Universal Studios, and Warner Brothers. Advisors to the project include: entrepreneur and digital pioneer, Dan Mapes; entertainment engineer, Ed Lantz; Ethologist, Marc Bekoff; Sustainability expert, Ian Roderick; LOHAS consultant, Gary Tomchuk; Educator, Howard Esbin; and Teen Advisor, TigerLily Klisanin-Ross. Over a dozen nonprofit partners are lending their expertise, including: Center for Biological Diversity, Charity: Water, Earth Charter, Heroic Imagination Project, International Dark-Sky Association, Pachamama Alliance, Reef Check, The Converging World, Raincatchers.org, and the World Futures Study Federation. The list of nonprofit partners is rapidly expanding.
Interested parents, educators, and heroes/superheroes can find out more and join the world's premier league of cyberheroes!