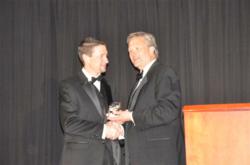 "I am truly honored and humbled about the recognition for myself and Straub Construction...."
Shawnee, Kansas (PRWEB) April 11, 2013
Parker Young of Straub Construction Company, Inc. has recently been honored by Kansas State University. The College of Engineering's Professional Progress Award is given to alumni for professional career accomplishment during the first 20 years following their graduation. The nominations come from respective department heads and are confirmed by John English, dean of engineering. Mr. Young, of Overland Park Kansas, is a 1994 graduate in construction science and management. He is a partner with Straub Construction Co., serving as executive vice president and COO, having previously held positions as superintendent, project manager and vice president of operations. His primary responsibilities include general oversight of processes and procedures in project management, estimating, accounting, human resources and all aspects of field operations. Young has been actively involved in the local chapter of Associated Builders and Contractors, previously serving as board chairman and was recognized with the 2012 Arthur C. Waugh Keystone Award. He has been honored by Ingram's magazine as one of its "40 under 40" and the K.C. Business magazine as a "Rising Star." Young is currently chairman of the board for City Vision, a not-for-profit urban development organization.
Mr. Young's leadership has led to numerous honors and awards for Straub Construction Company, Inc. Straub was named "General Contractor of the Year" by the Associated Builders and Contractors (ABC) Heart of America Chapter for the third straight year. They recently won three Excellence in Construction awards and the Preservation Honor Award from the National Trust for Historic Preservation.
At the awards ceremony on April 6th, Mr. Young accepted his award and was supported by his family and the President of Straub Construction Co, Inc., Mr. Ernest Straub III. As the 93 year old company's Executive Vice President and COO, Mr. Young stated, "I am truly honored and humbled about the recognition for myself and Straub Construction by the Kansas State University College of Engineering. We are proud to be part of the K-State Family!"
###
Straub Construction Co. is a national award-winning general contractor headquartered in Greater Kansas City. Focusing on a diverse scale of quality construction in the Midwest, the 93-year-old company's capabilities include a full range of construction management services. Market segments include: multifamily, commercial, institutional, religious and historic renovation. For further information, visit http://www.straubconstruction.com or contact (913) 451-8828.