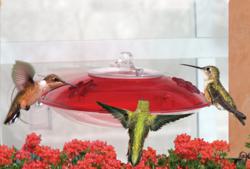 Plainfield, CT (PRWEB) April 13, 2013
Hummingbirds are beginning to return from their wintering grounds, and they will be making stopovers in areas that provide the food, water, and shelter that they need for energy, nesting, and brood raising.
With over a dozen species that breed in the continental US, hummingbirds can be found just about everywhere! These tiny birds can fly backwards and forwards at incredible speeds, and beat their wings at a blurry 40-80 times per second. Because they can depart as quickly as they arrive, it's a real treat to be able to see them as regular visitors in a yard or garden.
Hummingbirds feed on insects and flower nectar, and may eat 1-2 times their weight in nectar every day! They have been known to visit hummingbird feeders as frequently as every 10 minutes in order to sustain their high-calorie needs. Droll Yankees offers three hummingbird feeder models to choose from - Little Flyer 4 (LF-4), Happy Eight 2 (H8-2), or Window Hummer 3 (WH-3) – making any yard inviting for hummingbirds.
Backyard birders feed hummingbirds by filling their hummingbird feeders with sugar water, the closest thing to flower nectar. This is easy to make at home, by boiling one part white table sugar with four parts water, and allowing the mixture to cool before filling and hanging the feeder. This mixture will keep in the refrigerator for up to two weeks. (There is no need to purchase store-bought nectar, and in fact most nectar found in stores contains red dyes and other artificial substances which are harmful to hummingbirds.)
Some people, although they want to feed hummingbirds, have not had much luck with hummingbird feeders in the past. Common complaints are that the feeders leak and make a sticky mess; that the feeders are too hard to clean; or that the nectar attracts insects. Droll Yankees' hummingbird feeders eliminate all of these problems, making attracting hummingbirds easy and fun! Their UV-stabilized, leak-proof saucer design prevents spillage and makes cleaning and filling incredibly simple. Their BPA-free construction is safe for hummingbirds. And the hummingbirds like the vibrant, ruby-red lids, molded flower ports, and Nectar Guard Tips (NGT, included with each feeder), which block flying insects from entering the feeder ports, while still allowing hummingbirds to feed. A built-in ant moat provides extra protection against ants that may try to climb down the brass hanging rod of the Little Flyer 4 (LF-4).
To keep hummingbirds healthy and happy, it is also important to remember to clean hummingbird feeders frequently. Nectar should be changed regularly - every 3-5 days, or when it begins to look cloudy. In summer, nectar may need to be changed every 2-3 days because weather is hotter and bacteria tends to grow more quickly. After discarding old nectar, feeders can be sanitized in a 50/50 solution of white vinegar and hot water, and scrubbed with a brush to remove any debris and bacteria. Droll Yankees' HummerPlus Brush (HUM) is curved to allow for thorough cleaning of the feeder dish, and Perfect Little Brushes (PLB, one included with each feeder) are perfect for cleaning feeder ports.
Extra attractions for hummingbirds are a water source – try clean, fresh water in a bird bath or shallow dish – and flowering plants to feed from. Even city-dwellers with rooftop gardens can attract hummingbirds by combining their feeders with hummingbird-friendly flowers. Ruby-throated hummingbirds, which live east of the Mississippi River, especially enjoy visiting native flowers such as Trumpet Creeper (Campsis radicans), Bee Balm (Monarda didyma), Trumpet Honeysuckle (Lonicera sempervirens), Cardinal Flower (Lobelia cardinalis), and many more. An internet search for "hummingbird garden" along with a particular state will yield many local flower results.
Using several feeders will ensure that hummingbirds will visit more often. It will also keep one hummingbird from chasing others away and dominating the feeders; they can't reign over feeders out of their sight.
No matter the layout of the yard or home, Droll Yankees' hummingbird feeders allow hummingbirds to visit in the most convenient spot for viewing. The Little Flyer 4 (LF-4) and Happy Eight 2 (H8-2) can be hung or pole-mounted. These feeders can be hung from an overhang with a cup hook and a string, or can easily be hung in a bush or tree thanks to their leightweight construction. If no bushes and trees are available, Droll Yankees' 1" diameter poles are the best solution for setting up a hummingbird feeder in any yard location. The 46" Flower Garden Pole (FGP) is sized perfectly to position your feeder at the height of the flowers in your garden. Droll Yankees also offers the 68" Garden Pole (GP) for placement at a higher level.
Droll Yankees also offers a window feeding option with the Window Hummer 3 (WH-3). On this model, a suction cup bar attaches directly to a window, and the feeder can be lifted off of the bar, making refills and cleaning a snap. Hummingbirds hover over the ports, or perch on the rim, just inches away – close enough to show their tongues as they eat the nectar!
Look for Droll Yankees' hummingbird products at a local Droll Yankees retailer, call Droll Yankees at 888-851-6621, or shop online at http://www.drollyankees.com.
###
In 1969, Droll Yankees started a bird-feeding revolution with Model A-6F, the first tubular bird feeder. Since then, Droll Yankees has built on that success, continually developing innovative approaches to bird feeding that benefit both the birds and Droll Yankees customers. Generations of bird lovers have appreciated Droll Yankees' quality construction, functional simplicity, and commitment to American workers. Droll Yankees offers a Lifetime Warranty and will replace any squirrel-damaged or defective parts, free of charge. To learn more about Droll Yankees' products, visit http://www.drollyankees.com.