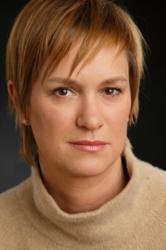 "Archer Gray is well-positioned to grow into a full-fledged production company, with the creative and financial ability to bring both film and television productions to audiences everywhere."
New York, NY (PRWEB) April 15, 2013
Amy Nauiokas, Founder and CEO of Archer Gray, an independent Film, TV and Theater production company based in New York, today announced the appointment of film producer Anne Carey ("The American," "Adventureland," "The Savages") as president of production, effective immediately.
In the newly created role, Carey, who is well-known in the independent film business and internationally recognized for strong filmmaker relationships and industry connections, will oversee Archer Gray's growing film and television initiatives.
Commenting on the appointment, Amy Nauiokas said, "I am delighted to welcome Anne to Archer Gray. Together we share a passion for connecting partnerships with powerful storytelling, and bringing productions of original content from development through to distribution. Anne's wealth of experience and cultivated aesthetic will further strengthen our company's development, packaging and investment in these productions."
Archer Gray's most recent film productions include the Tribeca Film and Focus World feature "Greetings from Tim Buckley" and "The Inevitable Defeat of Mister and Pete," Broadway projects include "ONCE," winner of 8 Tony Awards, "Seminar" and "Dead Accounts." Carey will support Nauiokas' ongoing strategies to expand the company's lucrative theater business.
"I am thrilled to join forces with Amy and look forward to collaborating with her. I respect her artistic perspective and admire her business savvy," said Carey. "Archer Gray is well-positioned to grow into a full-fledged production company, with the creative and financial ability to bring film and television productions to audiences everywhere."
In addition to her work in film and theatre, Nauiokas is an active venture capitalist with businesses spanning media, entertainment, real estate, finance and technology. She established Archer Gray in 2010, and through it served as Managing Partner at Smuggler Films, where she was instrumental in raising the company's development capital and served as creative advisor.
Along with project development and financing, Archer Gray will explore opportunities in venture capital and technology directed towards building a strong digital distribution model. Nauiokas, who has a background in technology, previously held senior management positions at Barclays Bank and Cantor Fitzgerald, where she was a recognized leader in electronic distribution of financial product before launching her arts career.
Prior to joining Archer Gray, Carey was a strategic partner at Epoch Films with founder Mindy Goldberg. Together Archer Gray and Epoch will continue to collaborate on key productions and partnerships.
Carey's films have been distributed by Focus Features, Fox Searchlight, Miramax, The Weinstein Company and HBO, among others. She recently served as executive producer of "Love, Marilyn" directed by Liz Garbus, an award-winning documentary film director and producer. The film was sold to HBO at the 2012 Toronto Film Festival and is slated to premiere later this year.
Carey's independent film productions have played consistently at major domestic and international film festivals including the Sundance Film Festival, Toronto International Film Festival, Berlin International Film Festival, Telluride Film Festival, London Film Festival and SXSW.
In 2002, Carey co-founded This is that Inc. with Ted Hope and Anthony Bregman, and the company produced 20 films in 8 years. In addition to her work with Anton Corbijn, Tamara Jenkins and Greg Mottola, Carey's work at This is that includes Tod Williams's "The Door In the Floor," Mike Mills' "Thumbsucker," Nicole Holofcener's "Friends with Money" and Alan Ball's "Towelhead." Previously, Carey produced films and was head of development at Good Machine, Inc. for nearly a decade, where she worked closely with filmmakers such as James Schamus, Ang Lee, Todd Field and Moises Kaufman.
Carey has served as a mentor at the Sundance Creative Producer's Lab, and is an adjunct professor at Columbia University's Graduate Film School and NYU's Tisch School of the Arts and consults internationally as well.
In 2011 the Hollywood Reporter cited Carey as the Sundance Film Festival's IN producer, and she was honored as one of Variety's Top Ten Producers to Watch in 2004. Carey began her career at the William Morris Agency as Director of Literary Development. She is a graduate of NYU's Tisch School of the Arts.
Shani Geva, who began working with Carey at This is that, and most recently at Epoch, will join Archer Gray as a creative executive.
# # #
About Archer Gray Productions
Archer Gray Productions is an independent Film, Television, and Theater production company based in New York City. Founded by Amy Nauiokas in 2010, Archer Gray produces innovative, diverse work that balances commercial viability with artistic integrity. The company works through all phases of the creative process, from development through distribution. Archer Gray's film productions include the Tribeca Film and Focus World feature "Greetings from Tim Buckley," and "The Inevitable Defeat of Mister and Pete." Its Broadway projects include "ONCE," winner of 8 Tony Awards, "Seminar" and "Dead Accounts."