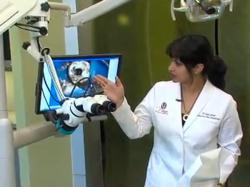 Our focus is to be 100 percent for patient relaxation and comfort.
Cleveland, Ohio (PRWEB) April 12, 2013
The latest Face Facts segment by the doctors at Visage Surgical Institute focused on root canal treatments. It was their second television appearance during Dr. Oz, and they took this opportunity to explain "endo-asleep," a root canal treatment they say is safe, physician-administered and exclusive to their practice in the Cleveland area.
"As a board certified endodontist, I treat conditions that relate to the inside of the tooth," says Dr. Usman. "Our most common procedure is called root canal treatment, which addresses infection, facial pain and dental trauma."
Root canal treatment is recommended when patients present infection or damage in the tooth's pulp, which can be caused by a fractured tooth or untreated cavity. It's a procedure that tends to cause anxiety in many people.
Dr. Usman explains some of the measures taken at Visage Surgical Institute to reduce patient anxiety during root canal treatment and other dental procedures.
Modern technology plays a major role. Visual aids, including microscopes, help the doctors see details and treat patients quickly and comfortably. Medical equipment is placed in a way that helps minimize patient anxiety. "Our focus is to be 100 percent for patient relaxation and comfort,"Dr. Usman says.
About Dr. Najia Usman, Board Certified Endodontist
An endodontist is a dentist who has undergone at least two additional years of training in the diagnosis and treatment of challenging dental cases. They specialize in treatment of problems inside the teeth, including the pulp and surrounding tissues.
"My work involves diagnosing patients who are experiencing oral pain or who have sustained an injury to their teeth," Dr. Najia Usman explains. "I also treat abscess or infection, and do root canals. I do everything possible to restore my patient's teeth to a state of health and functionality."
About Visage Surgical Institute of NE Ohio
Visage Surgical Institute is located in Medina, Ohio. The practice offers a wide range of medical services, including endodontic therapies, oral surgery, facial cosmetic surgery, and aesthetic services.
Doctors Faisal Quereshy and Najia Usman will present a new Face Facts segment each month. Viewers can tune in to the Dr. Oz show weekly, or view their website, http://www.visagefacialsurgery.com, to learn more about their services.