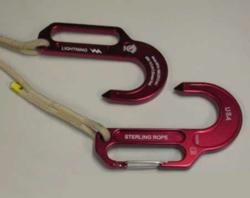 Firefighters like that these hooks are lightweight, versatile and made in the USA.
Neptune, NJ (PRWEB) April 12, 2013
Firefighters rely on a wide variety of personal protective gear and other equipment to ensure their safety and enhance their ability to operate effectively on the job. One crucial part of the firefighter's arsenal is the personal escape system. Firefighter escape systems are offered in many styles from several different manufacturers, but they all essentially work the same way. They are include multiple components, usually consisting of 50 feet of cut- and heat-resistant rope with an auto-locking descender, a carabiner and an anchor hook all of which are stored for use in a carry bag. When combined into an escape system, these items work together to provide firefighters with a means of escaping an untenable situation on an upper floor during a structure fire. The firefighter can simply anchor the escape system to a solid heavy object, and bail-out of the window onto the rope to descend to safety.
The process of escape needs to be as quick as possible because every second counts in a fire. Escape system components have been improving and evolving over the years with the goal of making the escape process faster and more efficient than ever before. A recent leap forward was taken in escape system technology with the introduction of two new Escape Hooks, the Sterling Rope Lighting Hook and the Lightning GT. Sterling Rope has developed a lightweight, versatile anchor hook that is now included in Sterling's F4 firefighter escape system.
The Lighting Hook can be remotely anchored around a radiator pipe, wall stud or other substantial object like a normal anchor hook, but unlike other hooks it also features a hitching slot so that the anchor can be placed around an object and secured using the hitch. The Lightning Hook is constructed from 7000 series aluminum and weighs less than eight oz to minimize the weight of an entire escape system.
The Lightning GT hook offers many of the same benefits as the original Lighting Hook – it is also made from 7000 series aluminum and weighs in at less than 8 oz, and both are UL certified to NFPA 1983-2012 and both are made in the USA. The difference lies in the GT or "Gated Technology", which refers to a spring-loaded wire gate on the hitching slot which allows the user to quickly capture rope through the gate when wrapping the hook and rope around an object.
"We are already seeing a great deal of interest for both versions of the lightning hook", said Donald Colarusso, a 26 year veteran firefighter and authorized escape systems instructor. "Firefighters like that these hooks are lightweight, versatile and made in the USA."
The Sterling Lightning Hook and Lightning GT Hook are available at All Hands Fire Equipment's website: http://www.AllHandsFire.com where they offer firefighter escape systems, fire tools, firefighting equipment and more.