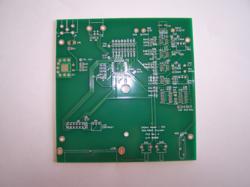 "As you know, I love working with Tramonto and I recommend you to anyone who will listen! The quality and support are amazing! You are definitely the best!" - Nena Abicht Inovonics Felton, CA
St. Paul, MN (PRWEB) April 12, 2013
Tramonto Circuits was founded in 2008. The core business was the manufacture of flexible circuits and value added assembly of those flexible circuits. The company's revenues grew very well with the focus held steadily on the flexible circuit portion of the market which comprises about 15% of the overall printed circuit industry. That categorized Tramonto Circuits as a niche company and their reputation throughout the U.S. and worldwide is that of a flexible circuit manufacturer.
The company has always manufactured traditional printed circuit boards. They didn't, however, target that part of the industry with their marketing or advertising campaigns. Satisfied to support their flexible circuit customers that enquired about the ability to provide their printed circuit boards (PCBs) also.
Customers of Tramonto Circuits began to share with the company their ability to compete better in the domestic market because of the cost savings they received by using Tramonto Circuits as their PCB supplier. Nena Abicht of Inovonics Inc. in Felton, CA says, "As you know, I love working with Tramonto and I recommend you to anyone who will listen! The quality and support are amazing! You are definitely the best!"
With that kind of feedback from their customers Tramonto Circuits was compelled to increase that portion of their business. John Talbot Director of Sales/Engineering states, "We provide our flexible circuit customers with an advantage in their marketplace by providing high quality circuits at worldwide competitive prices. We feel it's our responsibility to offer that same advantage to our PCB customers."
About Tramonto Circuits:
The mission of Tramonto Circuits is "To consistently provide its customers with high quality electronic products and services that meet or exceed their expectations." A manufacturer of flexible and rigid printed circuit boards, Tramonto provides circuits and assemblies to Original Equipment Manufacturers worldwide.