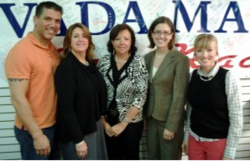 The Club offers a kick-ass, take charge approach to a cancer diagnosis.
Reno, NV (PRWEB) April 12, 2013
Pat Wetzel, founder of the Anti-Cancer Club™ (http://www.anticancerclub.com), will be the special guest on The Cheri Hill Show this weekend. The program can be heard on 99.1FM in Reno on Saturday, April 13, at 5 p.m. and Sunday, April 14, at 8 a.m. There will be also a live webcast at 991Talk.com.
Every week, Cheri Hill features a successful business owner who shares his or her challenges, insights and advice. She also invites a panel of business experts to discuss what the featured business owner shares.
Wetzel will relate her experience in founding the Anti-Cancer Club™. The Club provides a proactive approach to dealing with cancer, during diagnosis and beyond. Weekly online classes, including a Nutritional Boot Camp, provide education and a roadmap for creating a personalized plan for health. The membership base is growing, with much of the growth in the continental U.S.
"The Reno Club has more than 80 business partners that provide healthy, helpful and fun products for families dealing with cancer," Wetzel explains. Private chefs, cancer certified personal trainers and even flying lessons are available to be given as gifts. "We're currently adding products and services, such as online cancer coaches and meditation classes, to serve people regardless of where they are located."
Guests on the Cheri Hill Show also include Reno restaurateur Mark Estee of Campo (http://www.camporeno.com); Leslie Katich from the Northern Nevada Children's Cancer Foundation (http://www.nvchildrenscancer.org) ; and Margaret Van Meter, MD from Alpine Hematology and Oncology (http://www.alpinedoctors.com).
The Anti-Cancer Club™ offers a kick-ass take charge approach to creating a personalized plan for health, even in the face of a cancer diagnosis. Headquartered in Reno, Nevada, and founded in 2011, the Club provides free, on-line anti-cancer education focusing on nutrition, exercise, stress management and connection.