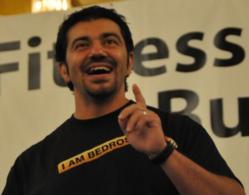 Life is so much better when you have a predictable marketing system that gets you all the clients you need and want.
Chino Hills, CA (PRWEB) April 12, 2013
No one understands the frustration of figuring out how to start a fitness business from scratch on a tight budget like Bedros Keuilian does. He knows first hand how much stress and worry is resolved when you have the right marketing systems in place. That's how Keuilian came to develop System 9, an easy to follow, done-for-you fitness marketing guide that personal trainers all over the country can't stop raving about. "Most of the trainers I talk to are doing all the wrong things and ultimately wasting a bunch of money on dead end marketing," he says. "Life is so much better when you have a predictable marketing system that gets you all the clients you need and want."
Keuilian's System 9, available now at PTPower.com, provides nine tested and proven fitness business marketing strategies that are easy to follow and low cost enough for every personal trainer on tight budget to implement right away. The goal of this system is to empower and encourage personal trainers who are new to owning and running their own business and brand new to fitness marketing. System 9 helps fitness business owners to avoid common mistakes and pitfalls when learning how to market their new business.
"These days I've found my true calling in life," says Keuilian, "Coaching and consulting fitness professionals who want more clients, more profits, and more freedom to enjoy life." He's pursuing that calling through PTPower.com, an online learning community that helps to guide fitness professionals' journey in the right direction without them having to spend copious amounts of money and time on marketing that just doesn't bring in the clients that new trainers starting out need.
A lot of marketing companies out there try to advise their clients that it takes a lot of money to effectively market a fitness business, but Keuilian's System 9 approach keeps a personal trainer's tight budget and limited resources in mind.
"Often times the best systems for attracting clients are actually free or low cost. However, most new entrepreneurs still use traditional high-cost/low-return marketing methods like newspaper and print publication and even direct mail." Keuilian adds, "While these tactics work, there are plenty of low and no cost personal training business marketing solutions available."
Over the past few years Keuilian has developed, tested, and tweaked his best client getting, personal training advertising strategies. System 9 includes some of the most unexpected tactics that really work to generate leads for any fitness business professional, such as The Client Referral Generator, The Human Billboard System, and The Seminar Tsunami just to name a few.
To unlock personal training financial potential and turn it into a reality, check out Grow Your Fitness Business at PTPower.com.
To find out more about Bedros Keuilian, his company PTPower.com and the Fitness Boot Camp Franchise Fit Body Boot Camp, contact Bedros Keuilian at (800) 261-0208. Alternatively you may use the contact form at http://ptpower.com/contact-me/ or send an email to Bedros Keuilian at support(at)keuilian(dot)com.