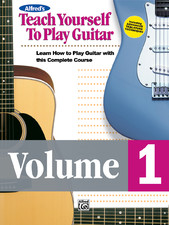 Learning how to play the guitar just got a lot more interesting!
Los Angeles, CA (PRWEB) April 11, 2013
Learning how to play the guitar just got a lot more interesting with the release of Alfred Music's interactive, media-rich eBook series, Alfred's Teach Yourself to Play Guitar Volume 1, Volume 2, and Volume 3, by Morton Manus and Ron Manus. Using the highly-acclaimed and proven pedagogical content from the best-selling guitar method series of the same name, this eBook is designed specifically to create an engaging multimedia experience that adds a new dimension to learning to play the guitar.
Each section of Teach Yourself to Play Guitar provides a lesson designed specifically for the screen size and functionality of the iPad, along with the ability to highlight/underline text, add notes, and create flash cards. These study tools allow students to quickly revisit and reinforce what they have learned.
The series also provides multi-angle color images to demonstrate proper technique for finger positioning. This unique feature enhances the typical two-dimensional images used when teaching finger positioning and will help students learn the correct way to hold and play their instrument.
Audio excerpts and video tutorials within each lesson build upon key concepts,with demonstrations similar to what students would experience in a classroom or live lesson. Other notable features include interactive guitar diagrams that explore the different parts of the guitar, as well as comprehensive quizzes that ensure every student is on the right track to mastering the guitar.
"As technology continues to evolve, we continue to gain new and exciting ways to combine our expertise as the leading educational music publisher with more interactive and engaging tools to advance the way people learn, teach, and play music," says Rich Lackowski, Director of Digital Business Development at Alfred Music.
Beginning with the fundamentals, Teach Yourself to Play Guitar teaches students how to play notes, chords, scales, and songs, lesson by lesson, all while continuing to increase knowledge of reading and understanding standard musical notation and TAB. Students will learn to play in an array of musical styles, including rock, heavy metal, blues, country, jazz, and folk. Near the end of the book, students will be introduced to advanced tablature techniques such as bends, slides, and palm muting, which will encourage players to color their musical creations with their own unique style.
The Teach Yourself to Play Guitar eBook is now available in the Apple iBookstore. Alfred Music currently offers a vast library of additional digital products, including eBooks, digital sheet music, apps, and video on demand titles, with new titles being added regularly.