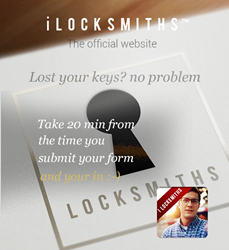 Whenever you find yourself on the side of the majority, it is time to pause and reflect.
Brooklyn, NY (PRWEB) April 14, 2013
iLocksmiths is probably the only company that offers free estimate to the customers in the locksmith industry. The industry leader recently announced free estimate service in Park Slope, Brooklyn, NY, to make it easy for the customers to understand the costs involved in hiring local locksmith services. iLocksmiths is a well-established locksmith company with a large network of locksmiths. The company has over 500 technicians to support the operations of the company that offer top-class locksmith services. The top Park Slope Locksmith offers the most comprehensive range of locksmith services, which cover residential, commercial and automotive sectors.
With the new estimate service announced by the leading locksmith in Park Slope, customers will certainly find the entire process of hiring a locksmith lot easier. Customers need not have to pay the service call fee or the trip charges just to get an estimate any longer because iLocksmiths new zero dollars estimate service gets rid of all such expenses that customers had to incur earlier. iLocksmiths takes great pride in being the first company in the industry to offer free estimate to the customers. iLocksmiths is already one of the most trusted and the most sought after company in the locksmith industry and with the recent value add feature announced by the company, the number of service calls to the Park Slope locksmith company is expected to increase further. The company is however well staffed to take care of the increasing demand.
iLocksmiths also enjoys very positive reputation in the industry for offering highly reliable locksmith services at very competitive prices. iLocksmiths provides customers very trustworthy services and the company has always kept the costing factors transparent. This new offer only makes the services of the company more desirable. Moreover, iLocksmiths promises customers timely services. Customers that are in need of locksmith services have to just fill in the web form or call the toll-free number to get quick assistance from the certified professionals in the locksmith industry.
The most popular locksmith in Park Slope, iLocksmiths is currently serving top cities like Brooklyn, Manhattan, Bronx and Queens. The company is continually expanding to the other cities as well due to the increasing demands. The support team at iLocksmiths is standing by to assist the customers that have queries on the new estimate service and to answer all types of calls on emergency locksmith needs.
About iLocksmiths
iLocksmiths is an eleven-year-old company and it is one of the largest networks of locksmiths in the industry. The company offers the most comprehensive range of locksmith services from Access Control Systems to lost key replacements. The company has earned the trust and the confidence of the customers by providing highly dependable services at the most reasonable prices. To learn further about the complete range of services offered by the company, please visit http://www.ilocksmiths.com.